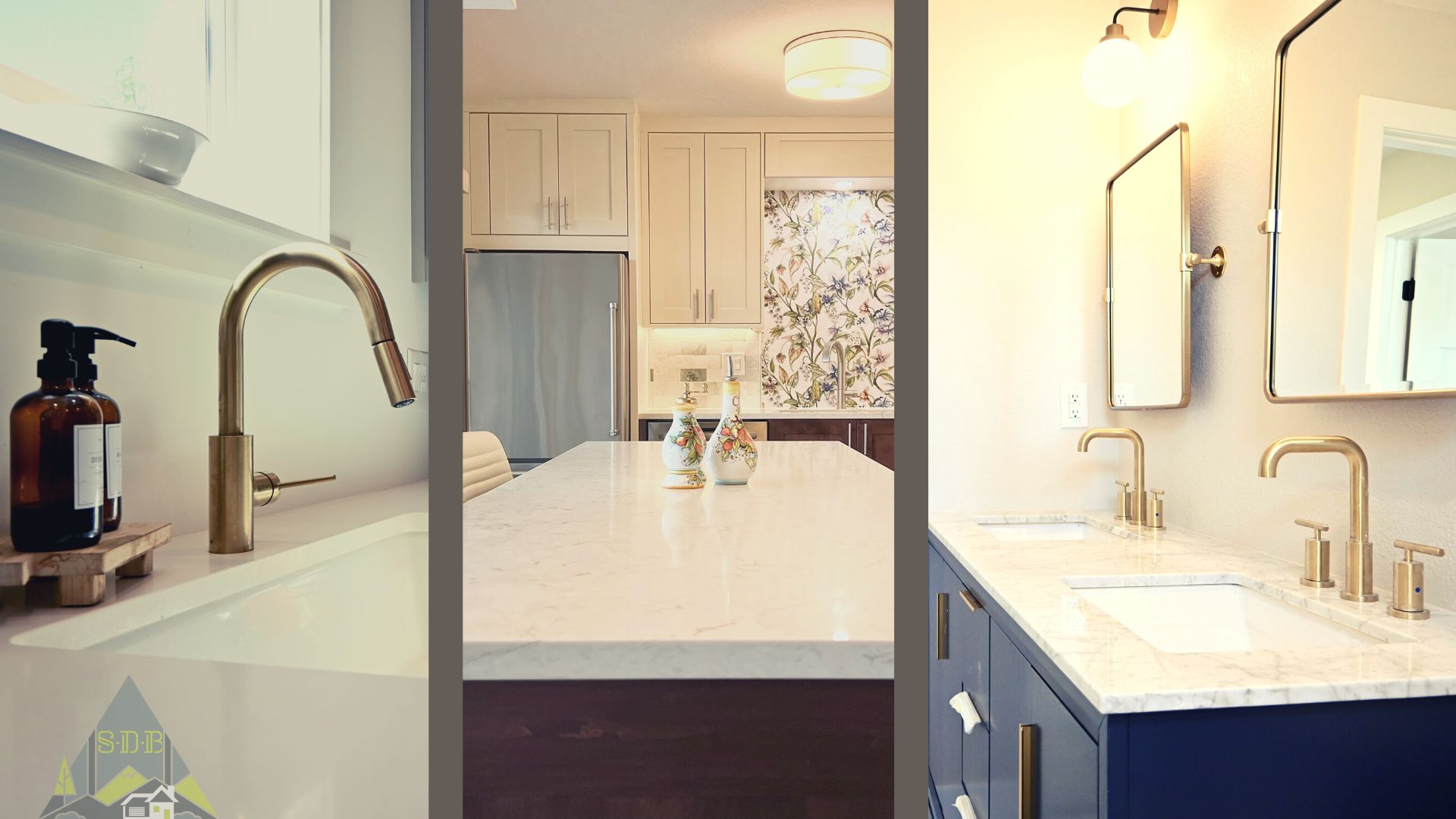 Looking back at the year, Sustainable Design Build saw its share of beautiful Denver homes. The SDB team has been super fortunate to work with amazing families and households in order to bring out the best in their properties. Through SDB's design-build process, home remodels, home additions, and accessory dwelling units were built in all varieties in 2022. Let's take a quick look at some of our 2022 projects and see the design-build difference.
4500 Yates Second Story Addition
This project was an opportunity to expand on a unique corner lot home. Sustainable Design Build provided services for constructing a second-story addition to the house, as well as, remodeling certain portions of the existing home. The project scope for the client was to add a second story that contained three bedrooms, a bathroom, a loft space, and a linen closet. Also, finishes were added to the basement such as tile.
Adding entirely new floors is a challenge as it's far more than just framing and adding walls. All the utilities need to be re-run to include the new space, this means; electric, low-volt, and plumbing need to be added. Bringing plumbing up a floor can be a difficult task.
The homeowners were more than up for a challenge and even selected some amazing finishes for the bathroom. Complete with gold hardware and matching fixtures on top of white-themed hard surfaces.
1847 S Grant St
Just a few blocks from the old South Pearl Street, Antique Row, Platt Park, and more. This once-vintage home now boasts modern updates that complement its coved ceilings, wood floors, bay windows, and arched doorways. The homeowners hired Sustainable Design Build to pop the top of the home and create a home addition that will support a master suite, a bathroom, and two new bedrooms for their children.
The largest part of the project was adding a second-floor addition to the home. The client needed more space for their family which resulted in adding three bedrooms, two bathrooms, and closet space. For the master suite, a patio balcony was also added. 
the client also had Sustainable Design Build remodel a large portion of the existing home. This remodel project also included much of the kitchen. The kitchen remodel shows off a wonderful selection of updated appliances, surrounded by modern soft gray cabinetry.
A Denver ADU Project
With all the hype going around the Denver neighborhoods, Sustainable Design Build was able to help this home build an ADU that was perfect for its goals. For this family, an ADU was a perfect fit to allow their extended family to stay with them and maintain their own sense of privacy. This Denver ADU project was the full scope, complete with a detached structure in the backyard of the primary residence featuring its own kitchen, bathroom, bedroom, attic space, and even doggie door.
The great thing about ADU projects is that they are essentially small custom home projects, this lets the family choose nearly every finish that is perfect for their aesthetic tastes. Sustainable Design Build worked hand-in-hand with the family to ensure their vision was brought to life. Luxury Vinyl Floors were chosen with an ash grey texture, cabinetry for the kitchen coordinate well with their soft dove grey panels, and even the hardware was coordinated with the new appliance package.
Washington Street Remodel
Sustainable Design Build had the pleasure of working on a high-rise condominium unit in one of Denver's residential neighborhoods. The client was looking to replace a handful of finishes for their home including; flooring, tile, trim, and paint. In addition, the client's goal was to remodel the kitchen, bathroom, and powder room. Following their tasteful selection of finishes and products, Sustainable Design Build was able to deliver. In the end, this project turned out to be one of our favorites this year!
Work with Sustainable Design Build on your Denver home!
Are you planning to start your home's latest construction project this year? Reach out to Sustainable Design Build for a complimentary consultation and learn more about why the design-build process is so important. Our team will have the ability to bring your home to the next level with next-level customer service. No matter the project scope, SDB will be able to handle it. So call Sustainable Design Build today for your next home remodel, home addition or ADU build!
Connect With Us
Planning your next renovation, or maybe you are looking to do a complete remodel for your home? Whatever the task, it can't hurt to ask. Reach out to our team through this form.
We can schedule a free consultation and discuss everything you need to get your project moving in the right direction. Did we mention, it's absolutely free?