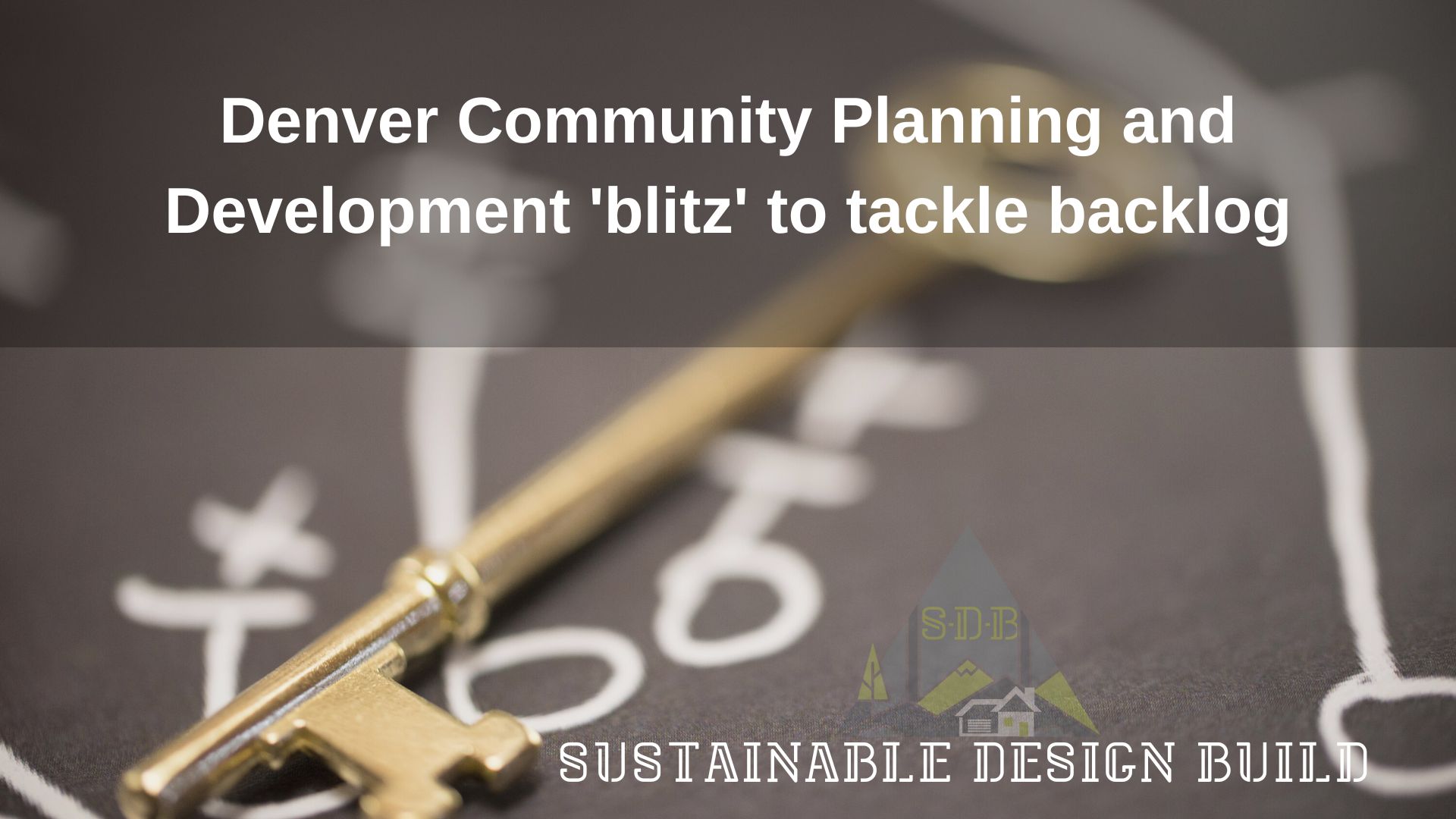 If you have been trying to reach Denver's Community Planning and Development Department, you might have noticed a lack of response. No need to worry, this is temporary and intentional. In fact, the order comes down from the top officials who have decided this would be the best time of year for a blitz on the pending plans that need to be reviewed.
It is no secret to real estate developers, general contractors, and design-build companies that Denver has been notoriously behind on plan review times and permit approvals. The recent period during and following the pandemic brought on an unforeseen rush of new construction and land development for both commercial construction and residential construction. Combined with a lack of manpower and the city of Denver's Community Planning and Development department was well underwater. This brings us to the present where the city plan review team hunkers down and works tirelessly to get through the stacks of plans on the docket.
Much similar to a crunch, the team in charge of plan reviews is currently engaged in what is called a blitz. This involved the review team avoiding phone calls, dodging meetings, and focusing solely on what needed to be done to lessen the increasing pending plans. A mass email communication to project leads, engineers, and design-build companies who have projects currently underway in Denver's Review Process; the entire month of December will be focusing on this blitz. 
Denver's "Expanding Housing Affordability" Plan to blame
While there is evidence Denver's Community Planning and Development Department was well behind on their due dates before, a catalyst to the current event is because of Denver's "Expanding Housing Affordability" plan releasing on July 1st, 2022. The plan's goal was to enforce a new set of regulations that requires developers of large residential projects or commercial multifamily projects to incorporate income-restricted units or pay an increased fee which would be directed to Denver's own affordable housing fund for future development. Naturally, many developers and construction companies did not want suddenly pay a large sum of money or let their projects become infeasible with the sudden new requirements – and so they all rushed to submit their plans. If developers and construction companies submitted their plan before June 30th, their projects would be grandfathered in and avoid these new regulations. 
Denver opened the floodgates
By July 1st, 2022, Denver's plan review department saw a total of 746 plans to review. Of those, 382 of them were early-stage conceptual plans, and 364 were formal site development plans. And since then, Denver's plan review department has only approved 116 of them – 630 plans remain. Judging by the timeframe it takes for a plan to reach approval through Denver's Review Times, project timelines would be egregiously extended leaving Denver liable to blame. 
Denver's Current Review Times
As mentioned earlier, Denver homeowners, commercial construction companies, design builds, and developers all have been struggling with Denver's Average Plan Review Times. Plan review times are the metric displayed by the city on how long it could take to approve a project for permits. As of today, the Average Plan Review Times is 266 days for Major Residential projects and 208 days for Major Commercial Construction projects. Earlier in the year, that time actually reached 300 days for a period. Hopefully, with Denver's Community Planning and Development Blitz the average time to permit approval will decrease.
Working with an experienced design-build company like SDB has been a great benefit to Denver developers and homeowners. Companies that have an all-in-one or single point-of-contact strategy have been able to keep delays down to a minimum on the client side of a project. Although there is no way to influence the City's process to invoke a project's approval sooner, clients can rest easy knowing that seasoned design-build companies like SDB are specialized enough in Denver's jurisdiction to navigate their process efficiently.
Connect With Us
Planning your next renovation, or maybe you are looking to do a complete remodel for your home? Whatever the task, it can't hurt to ask. Reach out to our team through this form.
We can schedule a free consultation and discuss everything you need to get your project moving in the right direction. Did we mention, it's absolutely free?