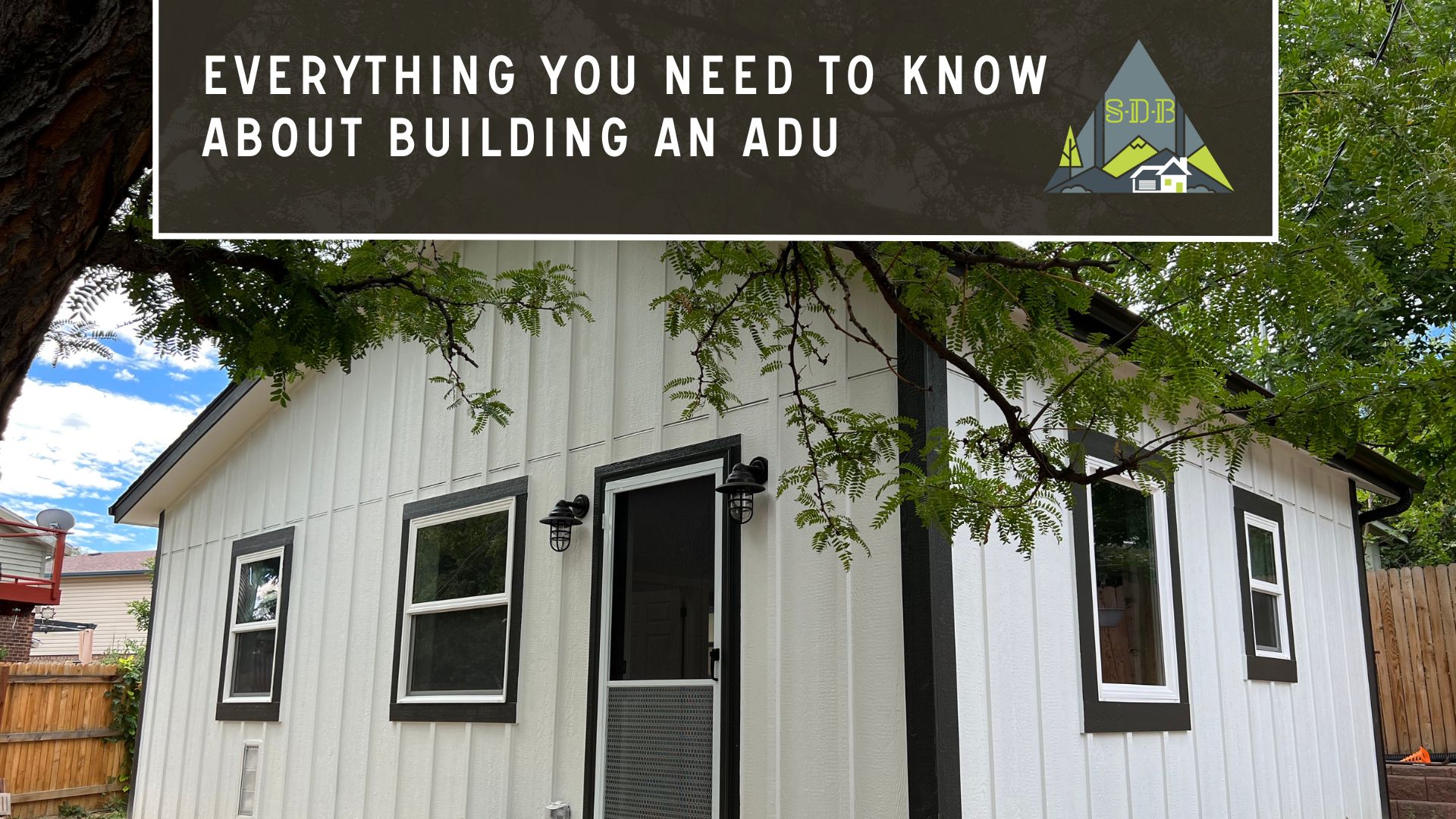 By definition, an Accessory Dwelling Unit, or ADU, is a secondary structure that is an independent dwelling that resides on the same property lot as the original home. These ADUs, although separate with their own mailing address, and water and sewer connections – are bundled together with the entire property lot and cannot be bought or sold separately. This unique characteristic makes Accessory Dwelling Units a desirable form of home improvement similar to that of a home addition. The additional space and perceived privacy benefits homeowners looking to offer housing solutions for their families or generate passive income via renting. The home goal of building an ADU in Westminster, Denver, Thornton, and more has increased over the years. However, despite their popularity, ADUs can be quite a complex home construction project. Let us provide some information to get you started and help get everything you need to know about building an ADU (Accessory Dwelling Unit).
What is an ADU? (continued)
An accessory dwelling unit (ADU), is a secondary house or apartment, a designated term in legal and regulatory contexts. It refers to a separate living space located on the same building lot as a larger, primary home. ADUs are commonly utilized to generate extra income by renting them out or to accommodate family members. For instance, an ADU can serve as a cozy living arrangement for elderly parents, enabling them to avoid the need to relocate to an assisted living facility.
Here in Denver, Thornton, and Westminster, an ADU is described as a dwelling unit with "one or more Rooms constituting a unit for permanent occupancy, having but one kitchen together with facilities for sleeping, bathing, and which unit occupies a structure or a portion of a structure."
Examples of ADUs
In-law suite

Granny flat

Carriage house

Above garage ADU

Garage conversion ADU
Unlike the recent "She-sheds", ADUs sport a much more robust set of living arrangements that make it official dwelling according to local municipalities and zoning. For instance, Accessory Dwelling Units require their own water and sewer connections. These types of utilities help distinguish the structure as its own separate sub-property:
Water and Sewer Connections

Electrical Connections

Natural Gas 
Am I zoned for an ADU?
Every municipality designates residential lots by the common use of its neighborhood and surrounding area. This is what is called the zoning code which acts as a guide for orderly development in each respective city to preserve and promote a healthy environment. That said, not every residential lot in Denver, Westminster, Littleton, and so on will be zoned for an Accessory Dwelling Unit. In fact, only about 30% of Denver's residential properties are zoned for an ADU at this moment. However, there are city council people looking to rezone entire neighborhoods to allow ADU construction and make it easier to pursue. If you are curious about your home's zoning code, please see our helpful resource and instruction here.
One other important detail, even if your home is the correct zoning there is still a certain requirement of available space to build an ADU. The best way to determine if an ADU is feasible is to reach out to SDB for qualified help. 
Can I build an ADU myself?
While many residential construction projects allow homeowners to perform work themselves, building an ADU in Westminster or Denver requires a professional contractor. General contractors will need a valid license to perform new construction which will allow them to pull a building permit for that specific municipality. Building an ADU is considered a major residential construction project in Denver, Westminster, Aurora, Centennial, and Lakewood. Even if homeowners were allowed to perform the work on their own, it would be such a large undertaking and would need assistance from multiple subcontractors. Not to mention the building permit requirements alone is such a lengthy task, taking almost a whole year to complete, it is better to have someone working for you.
Can I rent out an ADU?
 Yes, renting out an accessory dwelling unit is one of the main benefits that appeal to homeowners. In fact, renting an ADU is considered as encouraging 'gentle density' which produces small-footprint living spaces that assist the low housing inventory problem while not encroaching on neighborhood aesthetics and flow. Building an ADU offers families a unique way to improve property values and generate passive income. The best part is, the ADU can also be flexed to help house extended family or keep spouse close by.
Is building an ADU expensive?
Short answer, yes. The long answer, it depends on your goals for the property. An ADU is a large project that takes a lot of time and resources. Building an ADU is practically double the size in the scope of work compared to a home addition project or pop top. These projects are essentially building a miniature custom home, and homeowners can expect the same pricing per square foot. The typical ADU project can cost $450,000 and upwards depending on the material finishes and pre-existing conditions.
How do I get started Building an ADU?
Getting started is one of the hardest parts when building an ADU. Sustainable Design Build recommends reaching out to a few design-build companies and general contractors to gather initial information about their process. One of the most important aspects to consider is when receiving estimates about project costs. No project can have a true estimate without official stamped plans. For this reason, design-build companies like SDB offer a full design package that includes construction documents and plans that are compiled by architects, engineers, and interior designers. This initial design package will allow clients to determine the official layout of their new space and receive a set of plans that will give them the ability to receive accurate pricing for their budget and apply for a building permit. For more information about the design package offered by Sustainable Design Build or the general feasibility of your project, feel free to reach out to us anytime via phone or our contact form!
Connect With Us
Planning your next renovation, or maybe you are looking to do a complete remodel for your home? Whatever the task, it can't hurt to ask. Reach out to our team through this form.
We can schedule a free consultation and discuss everything you need to get your project moving in the right direction. Did we mention, it's absolutely free?