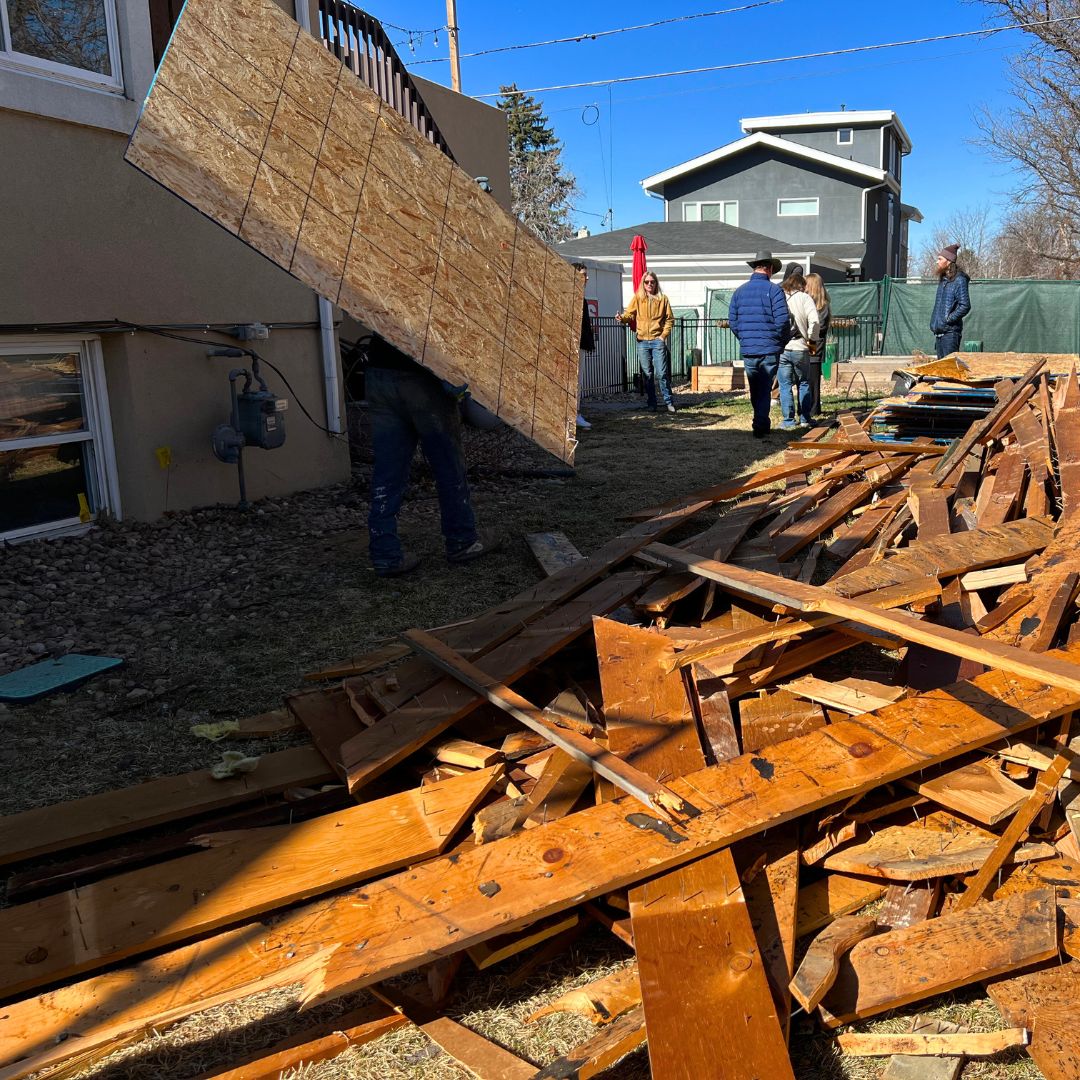 4595 Perry Home Second Story Home Addition with Perks Deconstruction and Sustainable Design Build, expertly deconstructing the roof for recycling and reuse of roof building materials.
Denver is actively seeking ways to improve sustainability and eco-friendly aspects of daily life, and that also includes construction. Starting on June 1, 2023, Denver is rolling out its Waste No More ordinance which will require nearly all construction and demolition projects to separate and recycle certain materials. This ordinance comes quickly after the recent approval of Ballot Initiative 306 back in November 2022. With this new requirement for construction projects citywide, homeowners, property owners, and construction companies can expect another layer of approvals before a construction permit can be issued. Let's take a closer look at Denver's Waste No More ordinance and what that means for your future construction project.
What is the Waste No More Ordinance?
According to Denver's website, Ballot Initiative 306 which is known as the Waste No More was approved on November 8th, 2022 with 70% of Denver voters approving it. The ordinance requires apartment complexes, restaurants, office buildings, and other businesses in Denver to offer recycling and composting services. However, specifically for construction and demolition debris, the city of Denver will require property owners and contractors to provide a recycling and reuse plan. This plan will be used to confirm compliance with the newly appointed ordinance and will be a new requirement for obtaining a construction or demolition permit. The official language of the ballot is as followed:
Sec. 48-139. Construction and Demolition Requirements for Recyclables Collection  

(a) All construction and demolition activities subject to city permit should separate and recycle, at a minimum, all readily-recyclable concrete, asphalt, clean wood, scrap metal, and corrugated cardboard. Other materials may be added to this list by the Department of Transportation and Infrastructure as recycling opportunities expand, effective June 1, 2023.  

(b) A rules and regulations process shall establish penalties and fines for noncompliance based on the square footage of the project. Penalties may include loss of license.  

(c) All parties seeking a demolition permit must have a recycling and reuse plan approved by the Department of Transportation and Infrastructure prior to the issuance of the demolition permit.  

(d) Projects under 500 square feet, projects requiring only mechanical, electrical, plumbing, or HVAC permits, quick permits, and other applicable projects determined through rules and regulations are exempted. 
Recycling and Reuse Plan
In addition to the act of separating and reculing construction and demolition materials, the owners or contractors must prepare a Recycling and Reuse Plan which will be submitted to the city. All projects will need to submit a form called the recycling and reuse compliance form which is located on the city's website with the addition of other supporting documents. After the city verifies the form and supporting documents, the applicant will be able to schedule a 109 Other Inspection on the city's Uploading Building Inspection Documents page. After all, items have been completed and approved, the Waste No More initiative requirements will have been met and longer bar projects from obtaining permits for construction or demolition.
How to recycle building materials
Denver's Waste No More initiative is still in the early stages and will definitely need some clarifying information on how to properly navigate its requirements. With that said, there is no designated service or method stated by Denver's website or specifically mentioned on how to recycle materials leftover from a project, other than the stated material types to be handled. Those material types already mentioned:
readily-recyclable concrete

asphalt

clean wood

scrap metal

corrugated cardboard
Will need to be properly handled by contractors, as the traditional roll-off dumpster solution is no longer available.  Sustainable Design Build is familiar with recycling and deconstructing building materials with the help of trade partners who specialize in the service. The companies will expertly deconstruct a structure and separate each material type to be hauled off to a respective lot or storage facility.
Does my home construction project need to submit?
According to the city of Denver's website, it seems that every construction project and demolition project will be required to submit a Recycklign and Reuise Plan. The only exceptions listed at this moment are projects that require only mechanical, electrical, HVAC, and or plumbing permits. Therefore, small projects like maintenance and installation will be sparred from the recent initiative. Sustainable Design Build is no stranger to additional city requirements, if you feel you need an experienced professional to help assist in obtaining a building permit or to complete your residential construction project, please reach out to Sustainable Design BUld for more information.
Connect With Us
Planning your next renovation, or maybe you are looking to do a complete remodel for your home? Whatever the task, it can't hurt to ask. Reach out to our team through this form.
We can schedule a free consultation and discuss everything you need to get your project moving in the right direction. Did we mention, it's absolutely free?