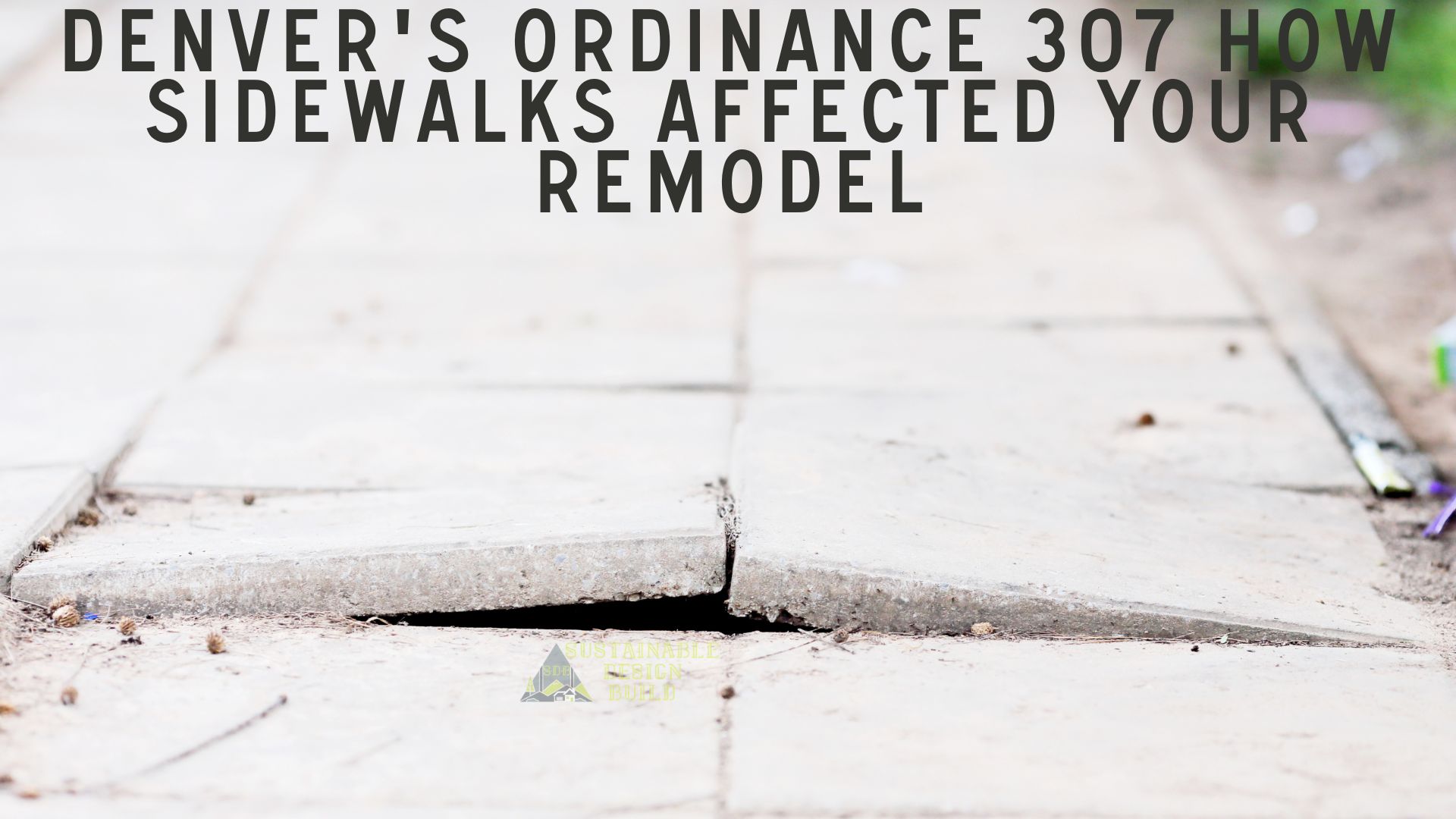 Denver Ordinance 307 removes the maintanence and replacement responsibilites of sidewalks from Denver Homeowners 
Now homeowners will pay annually to a program that is dedicated to maintained and replacing sidewalks 
Right-of-Way used to hold permits and residential construction hostage until surprise updates were made to sidewalks
Homeowners no longer have to fear suprise sidewalk upgrades when conducting major residential construction.
When walking through the neighborhoods of Denver, you may have noticed some of the sidewalks are more treacherous than others. There is definitely a varying degree of quality and upkeep for this pedestrian pavement. Up until now, it has actually been the homeowner's responsibility to maintain and improve the sidewalks of the neighborhood. But now, Denver's sidewalks have changed hands in management and control but still at the cost of homeowners. This is a benefit in many aspects, especially for property owners who were looking to build or make improvements to their homes. 
Denver Sidewalks used to be homeowner's responsibility
Denver's sidewalks definitely had character. When walking about the neighborhoods in Denver the sidewalks could be brand new and perfect, hazardous flagstone chunks, or barely a curb at all. The reason is that the sidewalks used to be the homeowner's responsibility. So the substrate and condition of the sidewalks could vary depending on the owner. Even if the sidewalks were in complete disarray, there was close to nothing to enforce an owner to replace it. 
In fact, the only way a homeowner ever had to replace the sidewalk was when they were performing capital improvements to their home – such as a home remodel or ADU construction. If the home improvement project was big enough in cost or scope, the department for Right-of-Way would be a part of the review process for building permits. They would determine if the sidewalk and/or alleyway would need replacing. Unfortunately, this practice leads to a lot of unforeseen costs and complications for private residential owners. The addition of these improvements would often hold a project back from completion or even threaten the certificate of occupancy. In a sense, it was a sneaky way to enforce much-needed improvements.
Ordinance 307 makes sidewalks Right-Of-Ways Responsibility
The official language for the ballot measure ordinance 307 states:
Shall the voters of the City and County of Denver adopt an ordinance to create a sidewalk master plan and to implement a sustainable program for the construction, reconstruction, and ongoing repairs of sidewalks citywide; to fund the program by charging a fee to property owners; to create a sidewalk enterprise within the definition of Section 20, Article X, of the Colorado Constitution, with the authority to issue revenue bonds payable solely from the fees collected under this program and without further voter approval; and to remove the adjacent property owner's current responsibility for sidewalk repair and reconstruction and place such responsibility on the City?
The election results showed that 55.85% voted in favor of the ordinance. Thus making a fee schedule or program for homeowners to pay based on the square footage of the sidewalk that is around their homes. According to Denver Streets Partnerships, it will cost homeowners an average of $107 per year. 
What does this mean for new construction like remodeling and custom homes?
If you are a Denver resident in the middle of building something on your property, such as a home addition, ADU, or brand new custom home, the new ordinance will affect you. As mentioned in the past, there was a high chance that Right-of-Way would require the homeowner to pay for improvements on the sidewalk and or alleyway. This typically would have happened near the end of the project, and often times be a surprise addition to the scope of work. Now that Denver has passed Ordinance 307, homeowners will no longer be blindsided by this requirement. In the short term things be a huge source of savings for their construction projects. Sustainable Design Build has warned clients in the past about the potential for having requirements placed on projects by Right-of-Way with little to no warning. To combat this a contingency fund was organized at the beginning of the project just in case. Moving forward, Sustainable Design Build expects homeowners to reap benefits regarding their project thanks to the newly enacted ordinance.
Connect With Us
Planning your next renovation, or maybe you are looking to do a complete remodel for your home? Whatever the task, it can't hurt to ask. Reach out to our team through this form.
We can schedule a free consultation and discuss everything you need to get your project moving in the right direction. Did we mention, it's absolutely free?