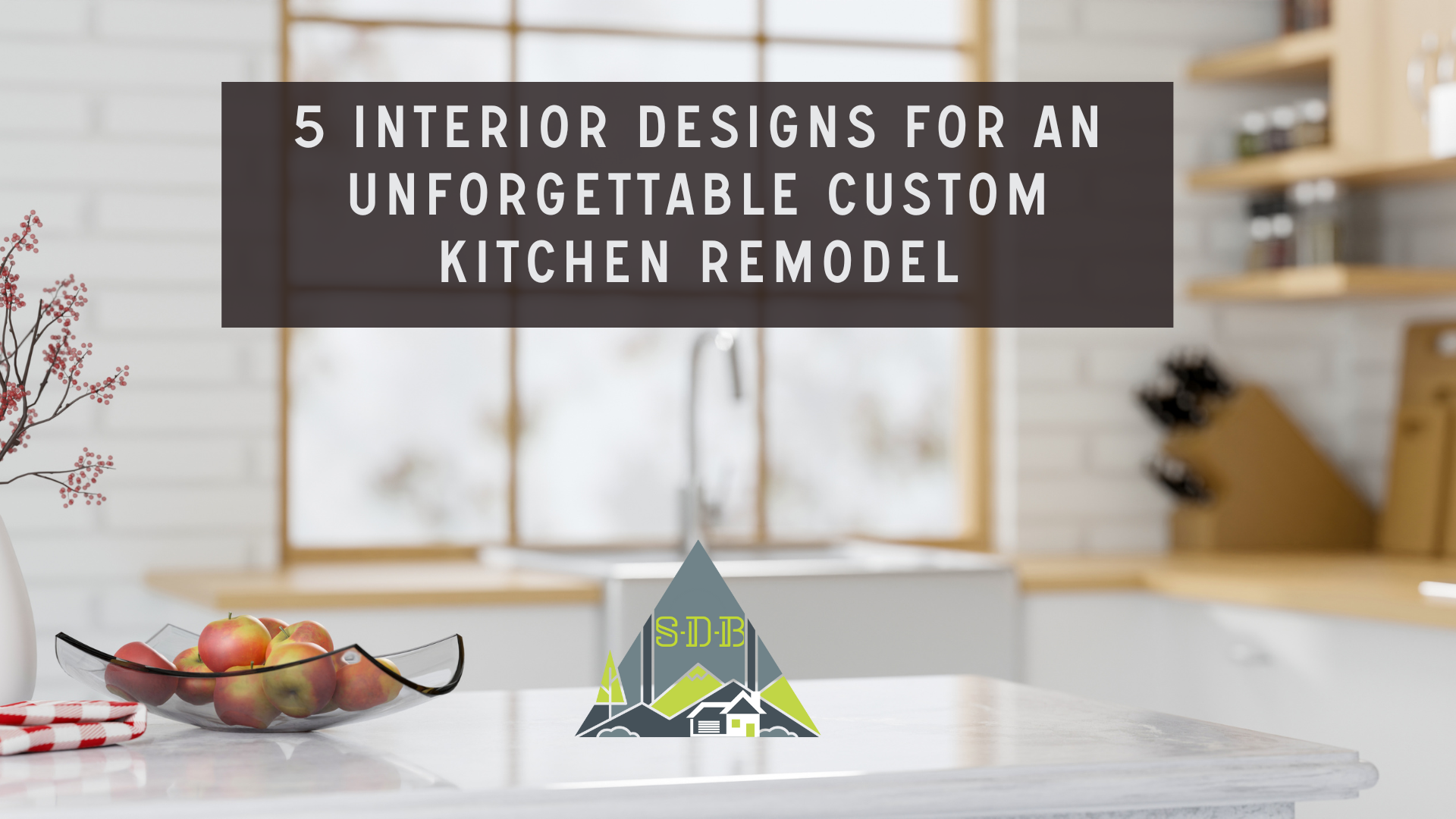 The cooler seasons are coming quickly and that means for some, more quality time at home. This gives us reason to dust off the crock pots and pans to prepare hearty meals for the family or just ourselves. A kitchen can be a very personal space for some home cooks, which is why it is important to customize a kitchen to your specific needs, tastes, and of course aesthetics. If you aren't cooking in a happy space, it can easily turn into an unwanted chore. So with the spirit of putting on our chef's hats, here are 5 interior designs for an unforgettable custom kitchen remodel idea!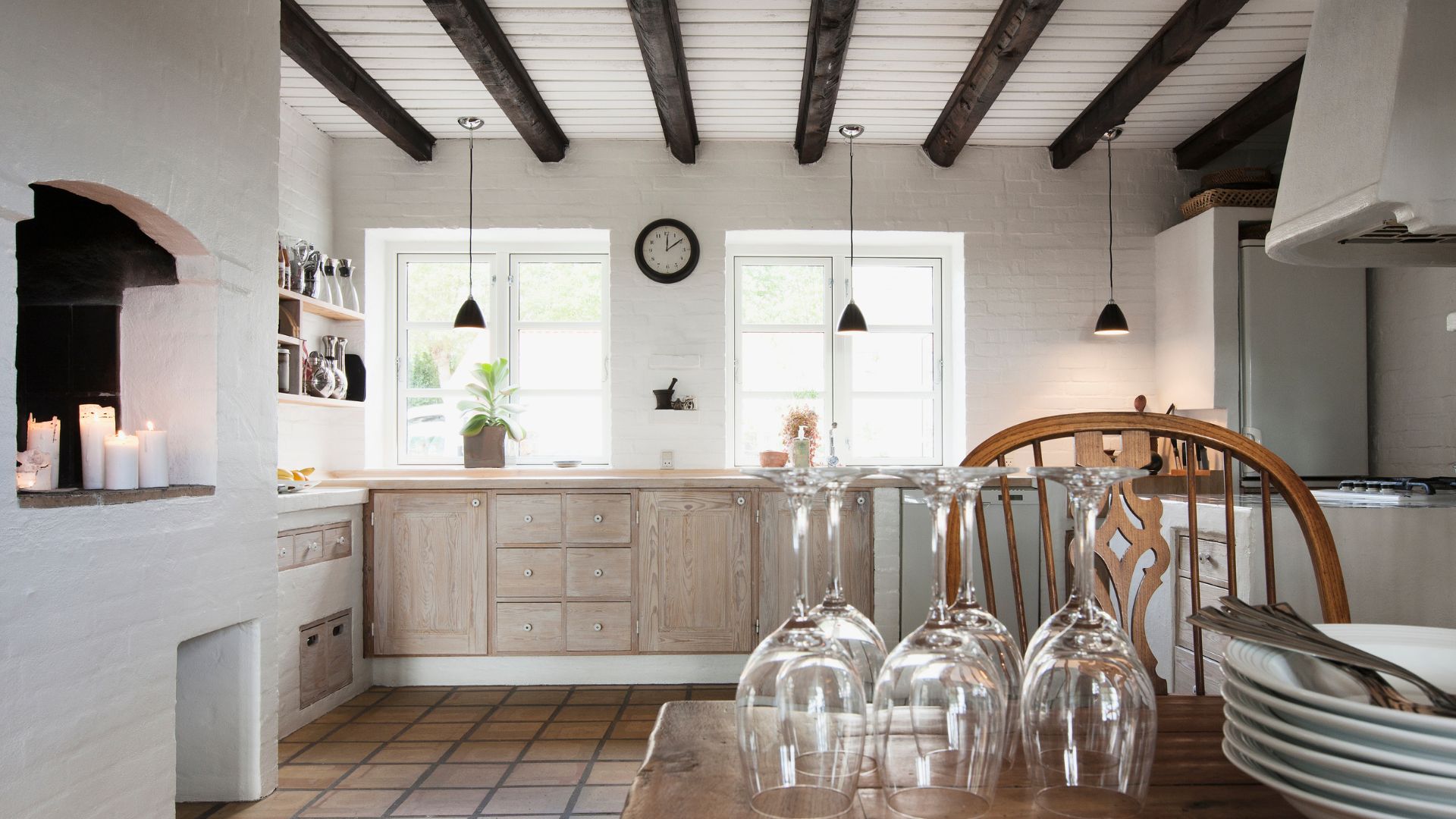 Rustic Chic Kitchens Brings Us Closer to the Rockies
Mountain modern has been done over and over; but usually just ends with the casual wood grain here, and apres-ski element there. Inspire more earthly elements in your kitchen and home with a rustic chic custom kitchen remodel to really emobdy the Rockies and mountain style living. The interior design for this unique style is fairly simple but yields wow factors every time you step foot into the kitchen. By borrowing vintage items, fixtures, and designs you can easily create a rustic vibe. However, it's important to work with an interior designer and contractor as the chic part of this style lies in the implementation. For example, reclaimed wood shelving or uppers give a great sustainable look but are elevated literally when installed as floating shelves! Match these heavy wood and rustic elements with bright white countertops and shining hardware (including your faucet) to create a unique but well-grounded style. All that is left is to work with your interior designer to find the perfect palette of complimentary earth tones to match your paint, backsplash, and floors with! Sustainable Design Build is a big fan of this style as it encourages the image of sustainability but has the option to use high-end and more presentable sustainable materials. Ask us more about the possibilities for your home.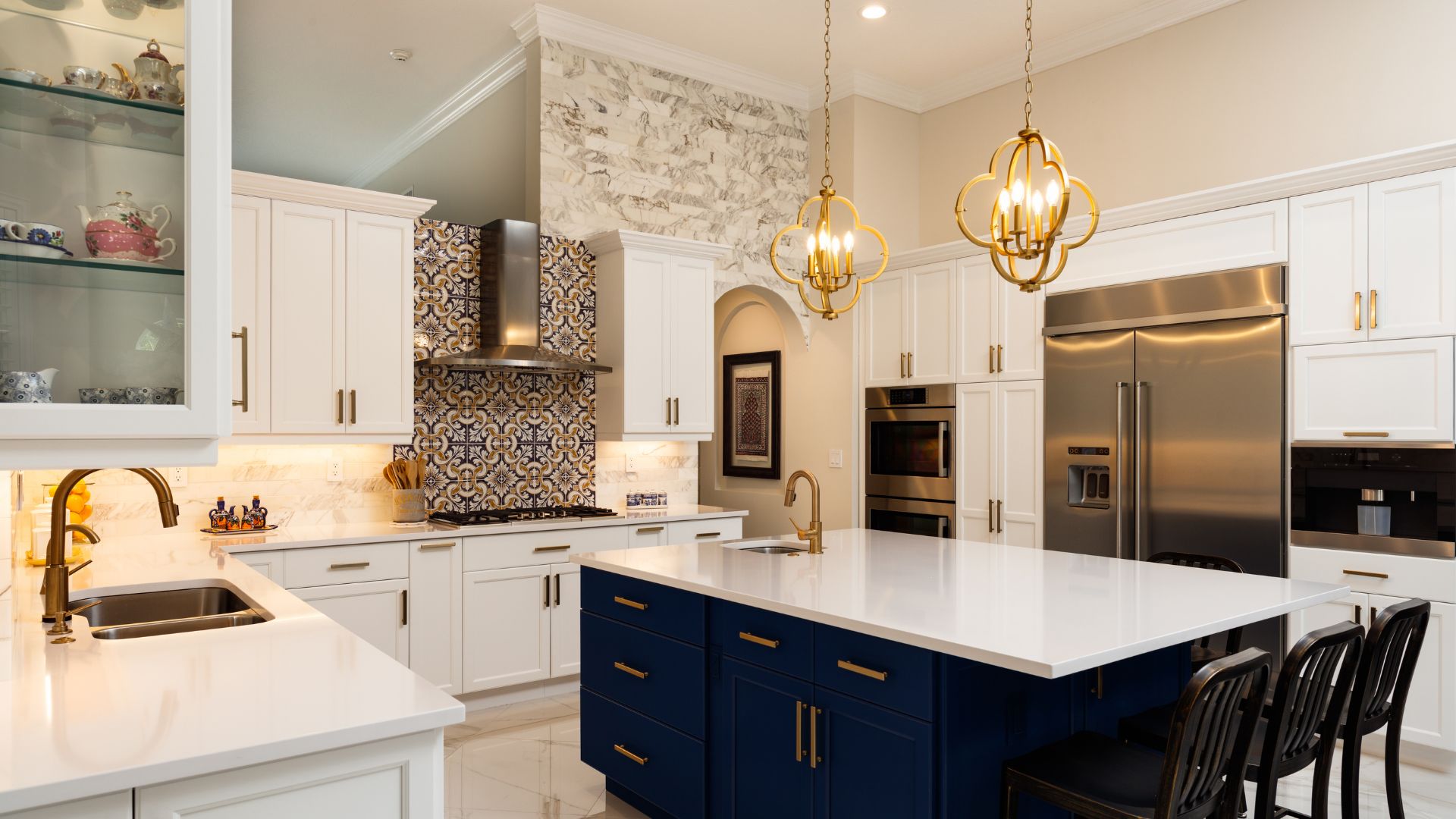 New Wave Kitchens for the New You
On the opposite side of earth and muted tones, comes the revamped New Wave Kitchen (Nu Wave?). Either way, if you like striking colors and visual patterns with the added bonus of letting an interior designer take the reins – this is the kitchen remodel for you. This is a lot of interior designers' favorite type of project because it allows them to really flex their knowledge of complex characteristics and traits to create a well-coordinated space. The design of these kitchens will introduce you to dark or very vibrant colored cabinetry. Second, tiles with complex patterns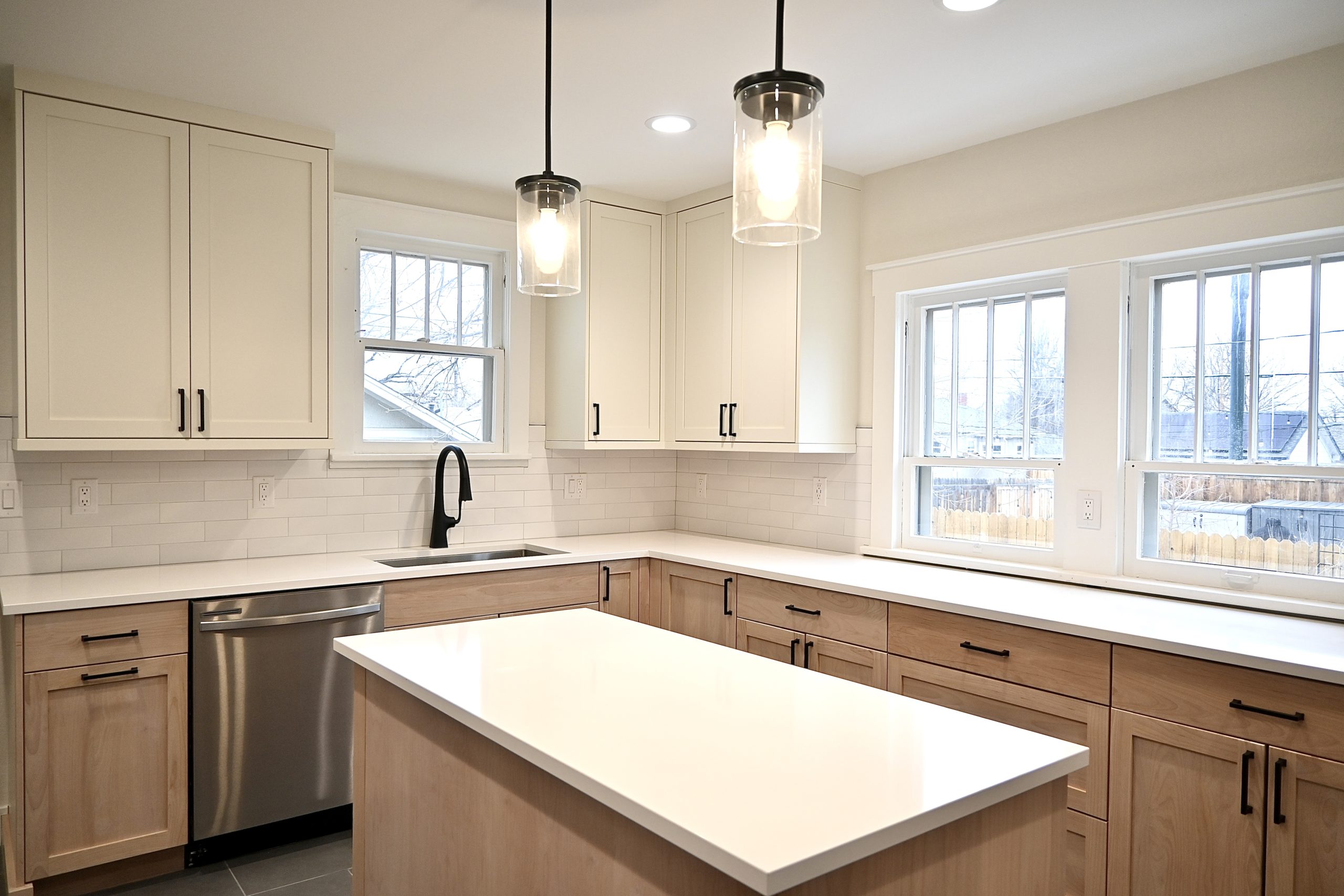 Open Space Concept Kitchen
The ever-popular type of kitchen remodel, the open space concept has proven itself year after year to be a staple in modern home interior design. Even Houzz recorded data showing that open-plan living is more than a fad and is likely to stay. An open-plan area aims to minimize the presence of walls separating distinct rooms or areas of a home. This might seem like a simple concept at first glance. However, an interior designer must engage in meticulous planning when crafting a feasible design. In the context of an open kitchen area, the primary focus encompasses maximizing space, enhancing traffic flow, and ensuring effortless accessibility for social gatherings and entertaining. 
The decision to renovate older kitchens using an open-space concept represents a highly rewarding investment. Such a renovation not only brings a modern and visually appealing touch to the space but also introduces essential functionality and utility into the home. Sustainable Design Build has had the privilege of helping numerous homes renovate and remodel their kitchens in this style, and the results never disappoint.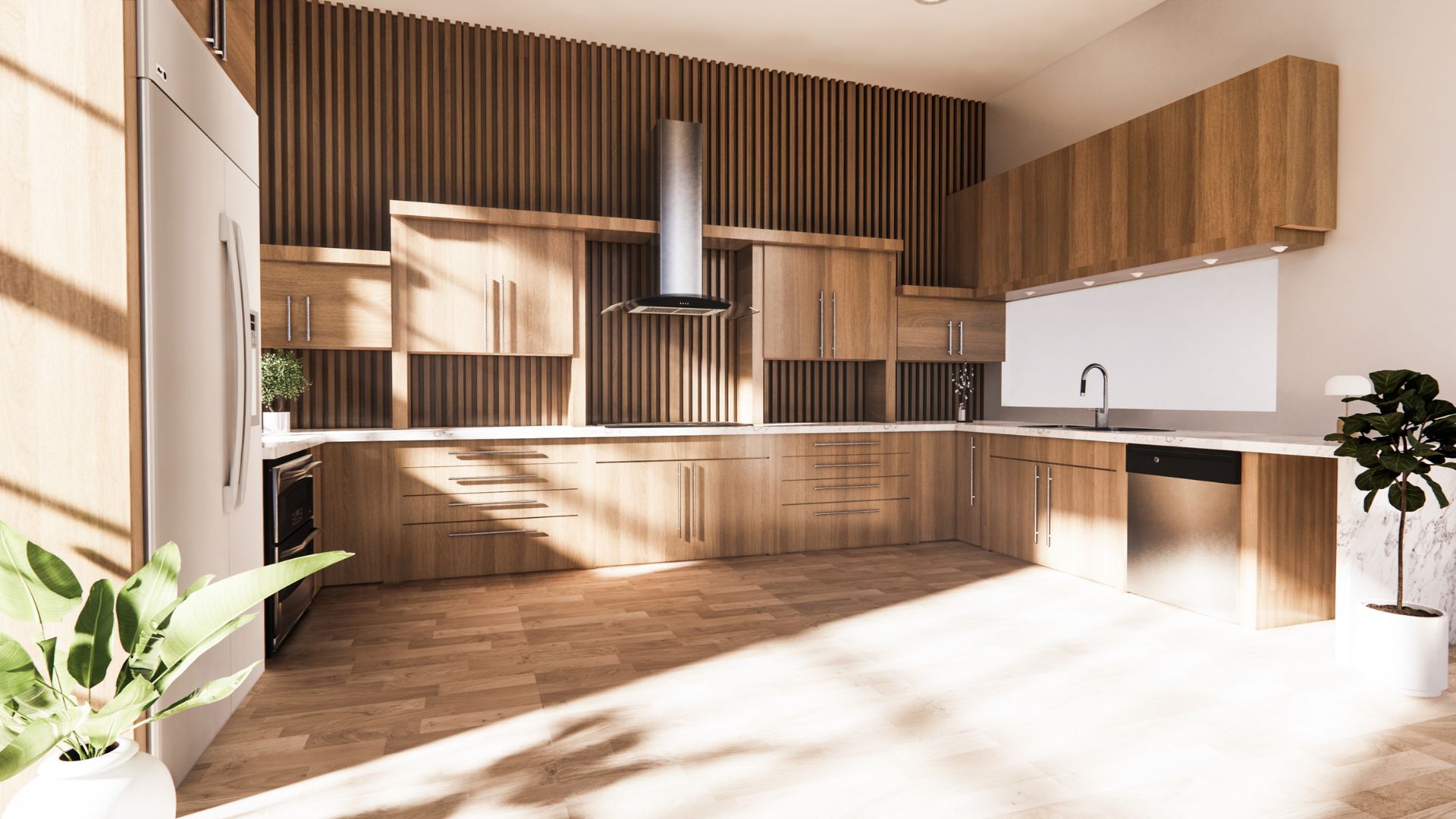 Wood and Timber
Sometimes an overabundance of tile and hard surfaces can easily make a kitchen seem too sterile. Homeowners can find success in their kitchen remodeling by going the opposite route and using numerous types of wood and timber accents. The only hard surfaces present in these kitchens with be the countertops and backsplash. While everything else will exude the fine details of nature, cabinetry both lowers and uppers will use a warm wood laminate finish. The flooring should also match that visual appeal with warm flooring. The finishing touches that interior designers encourage will be hardware and lighting fixtures that use brass of stainless steel which give a warm shine to compliment the style.
Which custom kitchen remodel style is your favorite? Have an even better style in mind? Sustainable Design Build provides a streamlined service that guarantees a beautiful finished home. Our design-build process allows our team to be a part of every aspect of the design, permitting, and construction. This means having a professional dedicated to your project with little to no communication breakdowns often found when coordinating multiple subcontractors. Even better along with our interior design process, our design and permitting process is General Contractor led which helps promote accurate pricing and feasibility for your project. Want to learn more about the design build difference with SDB? Reach out to our team any time via phone or our website!
Connect With Us
Planning your next renovation, or maybe you are looking to do a complete remodel for your home? Whatever the task, it can't hurt to ask. Reach out to our team through this form.
We can schedule a free consultation and discuss everything you need to get your project moving in the right direction. Did we mention, it's absolutely free?