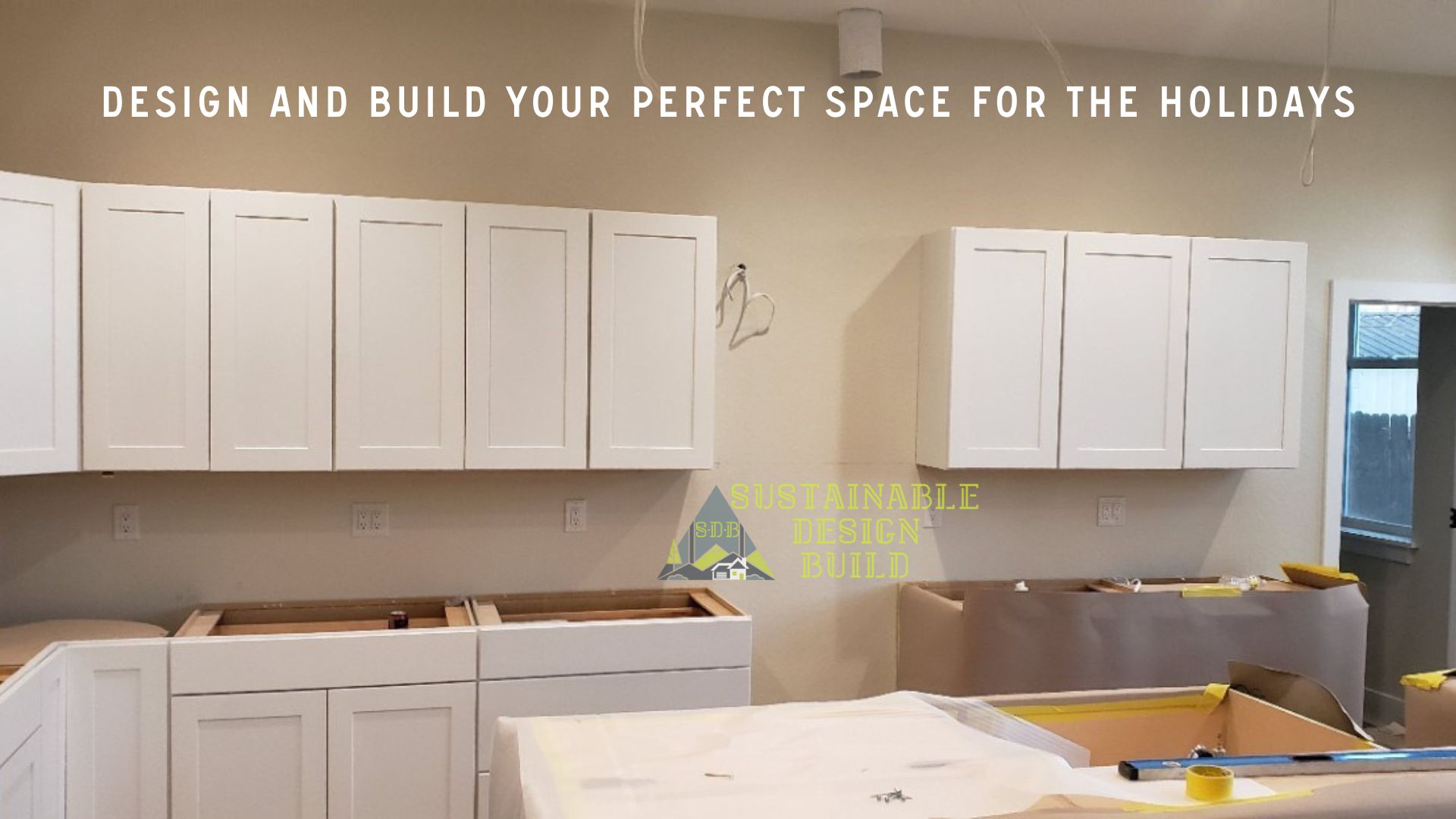 The holidays are a perfect time for families to return to each other and spend a little bit of quality time together. This is the perfect time for you as a homeowner or homebuyer to design and build your perfect space for the holiday festivities. If you have family and friends visiting, undoubtedly you will be in charge of hosting and entertaining your guests. Without designing and building a functional kitchen or a new dining room, the family holiday cheer can get a little Krampus (apologies for the terrible joke). Do you believe your home is ready for improvement? Do you know where to start? Ask us at Sustainable Design Build where we can build the perfect space for the holidays.
The Kitchen Addition
Personally, my family gathers in one spot of the house and that would be the kitchen. That makes sense too as my family members are world-class "pickers", they pick and graze on everything that is in the kitchen. Even with a turkey cooking all day, everyone will be standing around the kitchen island fighting over every last bit of morsel and joyfully communing with each other. So if your family is anything like mine, you will understand that having a large and spacious kitchen is the only way to accommodate that kind of foot traffic. According to Houzz, kitchen addition and kitchen remodeling are among the most popular home renovation jobs in America. Not only that, but return-on-investment, or ROI, a kitchen addition is among the highest in returns. Meaning that not only do you get to wow your family with an updated space, but your home's value will also increase well over the amount of moment you put into the renovation. 
Designing a Kitchen Addition Layout
As mentioned above, the kitchen is naturally going to be a high-traffic area. Family, friends, and pets of all sizes will be zipping through. Therefore, when designing a functional kitchen layout it is important to focus on spacing and depth. This can easily be addressed with a functional kitchen island, one that can extend the number of surface areas for storage, cooking, and eating. A functional kitchen island will also be useful in creating channels that traffic can go through (ideally, you want traffic to go around the chef). If a large functional kitchen island is not viable for the current square footage available in your home, you might consider the kitchen addition project. 
By bumping out an exterior wall and building further into the side or backyard of the lot, the homeowner can retrieve a large amount of square footage. So much so, that a large kitchen island can easily fit and more than one person can walk through the kitchen at the same time. This can also give the homeowner the ability to create the perfect space for the holidays with their dream kitchen. Large windows open up natural light, pristine marble countertops, and brand-new cabinetry that can showcase flatware or hide kitchen utensils. A kitchen addition is one of the best ways to design and build your perfect space for the holidays.
Other ideas for planning your kitchen Addition
The kitchen is one of the most versatile areas in your entire home. So when starting out on your design and project, consider some useful functions your kitchen should have. Somethings like:
Wet Bar or Beverage Space
Committing a corner or space in your kitchen to be in charge of all beverages will cut down on the case that rampages through your kitchen. Dedicating cabinetry and storage to a part of the kitchen will be perfect for the coffee maker, the whiskey station, and even the soda pop storage. Glassware can also be showcased for an extra bistro vibe and to make it easily accessible.
The perfect grazing station
A kitchen island can transform a space entirely. If you are considering installing a large marble countertop feature, why not incorporate some space for chairs? This creates a relaxed bar-top-themed area, one that can display platters of food and decor. This type of space is ideal for those guests who like to circle the kitchen all day while the main dish is being prepared. Add some barstools that can be pulled out from underneath an overhanging ledge and the chef will easily quell the hungering family members.
Hire a Design Build for your Kitchen Addition
Design Build firms like Sustainable Design Build can really make the process streamlined. You see, a kitchen remodels or kitchen addition project will require a lot of different subcontractors and coordination. A single general contractor managing the project can easily become overwhelmed with the ordering, managing, and timeline. This is especially true when the plans or layout get transferred from the architect to the general contractor. With SDB, all of the transitions and baton pass from design into construction are carefully managed by our team. We even make suggestions that let us flex our insight from years of experience in the industry. All of this helps guarantee a project that completes on time and within budget.
Connect With Us
Planning your next renovation, or maybe you are looking to do a complete remodel for your home? Whatever the task, it can't hurt to ask. Reach out to our team through this form.
We can schedule a free consultation and discuss everything you need to get your project moving in the right direction. Did we mention, it's absolutely free?