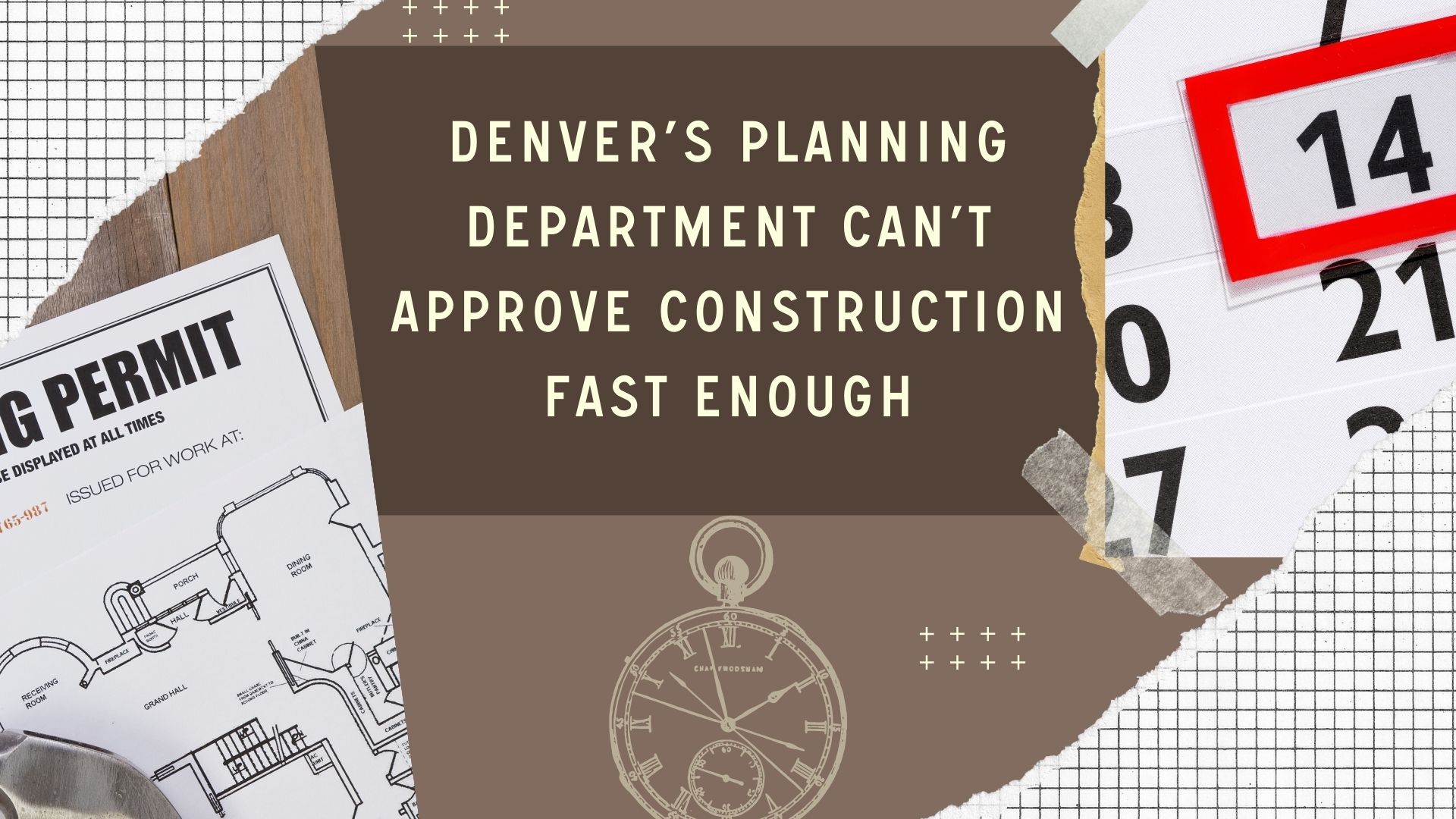 Both Residential and Commercial Construction projects in Denver are being delayed by long permit review times. Every type of construction  are suffering these hold ups, from single-family homes and duplexes to large commercial multifamily developments.  According to an interview by the Denverite, only 1% of these large residential construction projects are being approved on time. It is becoming more apparent that Denver's planning and development department is backlogged and understaffed. The problem is persisting so much that homeowners and developers alike are experiencing delays beyond months the average wait times. Some developers even argue that the delays caused by Denver's planning and permitting services are a pain point that contributes to the housing shortages or housing crisis here in Denver. How bad is Denver's Community Planning and Permitting Department delays, and how long can homeowners or developers expect to wait?
In the recent Denverite article, Laura Swartz a spokesperson for Denver's planning department tells, "Major residential reviews are running about 3-4 weeks behind schedule…" as Denver is continuing to work through an ongoing flood in the volume of residence permit applications. The spokesperson says, " Typically these reviews take 4 weeks to complete, but are currency taking about 7-8 weeks. 'Major residential' means new single-family homes, duplexes, certain types of townhomes and new additions over 400 square feet and major remodels to any of those units."
In addition to the long wait time, revisions for major residential applications are one to two weeks behind. For most residential construction projects, these revisions or 'redline' comments are common and often require several revisions before approval.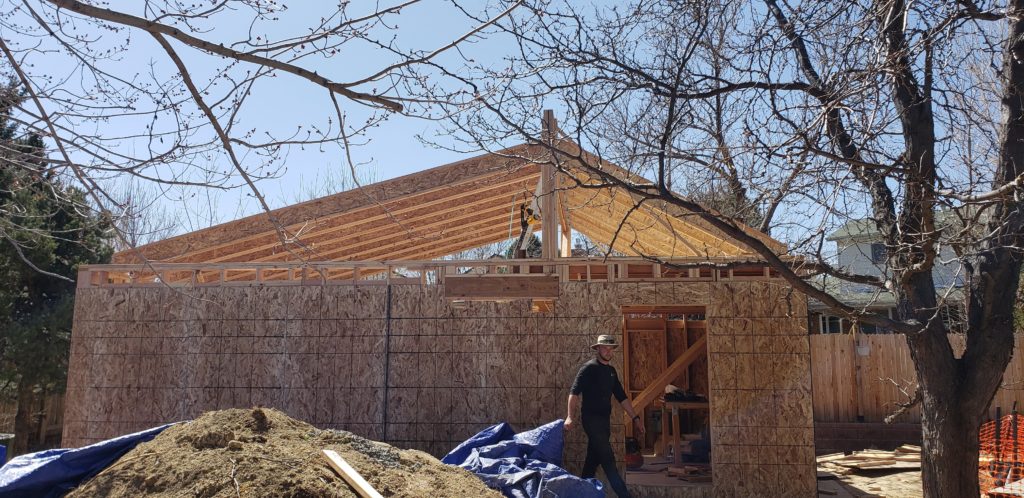 Residential construction of an Accessory Dwelling Unit in Denver, by Sustainable Design Build.
CONFLICTING TIME ESTIMATES FROM CITY
After all that, it is easy to see why the plan review and permitting process in Denver is a lengthy endeavor. But, as of today, 'major residential projects' time to permit approval takes about 284 days which comes directly from the city's Average Plan Review Times. This is concerning, as the time estimate compared to what the spokesperson has claimed is far longer. In, Sustainable Design Build's experience the city's website for  Average Plan Review Times has been a relatively accurate estimate of what homeowners and builders can expect for permit approvals.
Denver Commercial Construction Permit Times Almost the Same as Residential
For Major Commercial Construction Projects, real estate developers and builders of commercial spaces are facing similar timeframes. According to the Time to Permit Approval, the average duration of a Major Construction Project from the date submitted to the date approved takes about 273 days. This essentially means for either Denver commercial construction or residential construction, the city is backed up entirely. 
Minor residential projects in Denver also delayed
Even minor residential project plans for things like new window wells, patios, and more are having delays in permit review times. According to the article and spokesperson those plans are taking about 24 days to complete. Following the city's Average Plan Review Times website page, a minor residential project is expected to take 44 days for permit approval.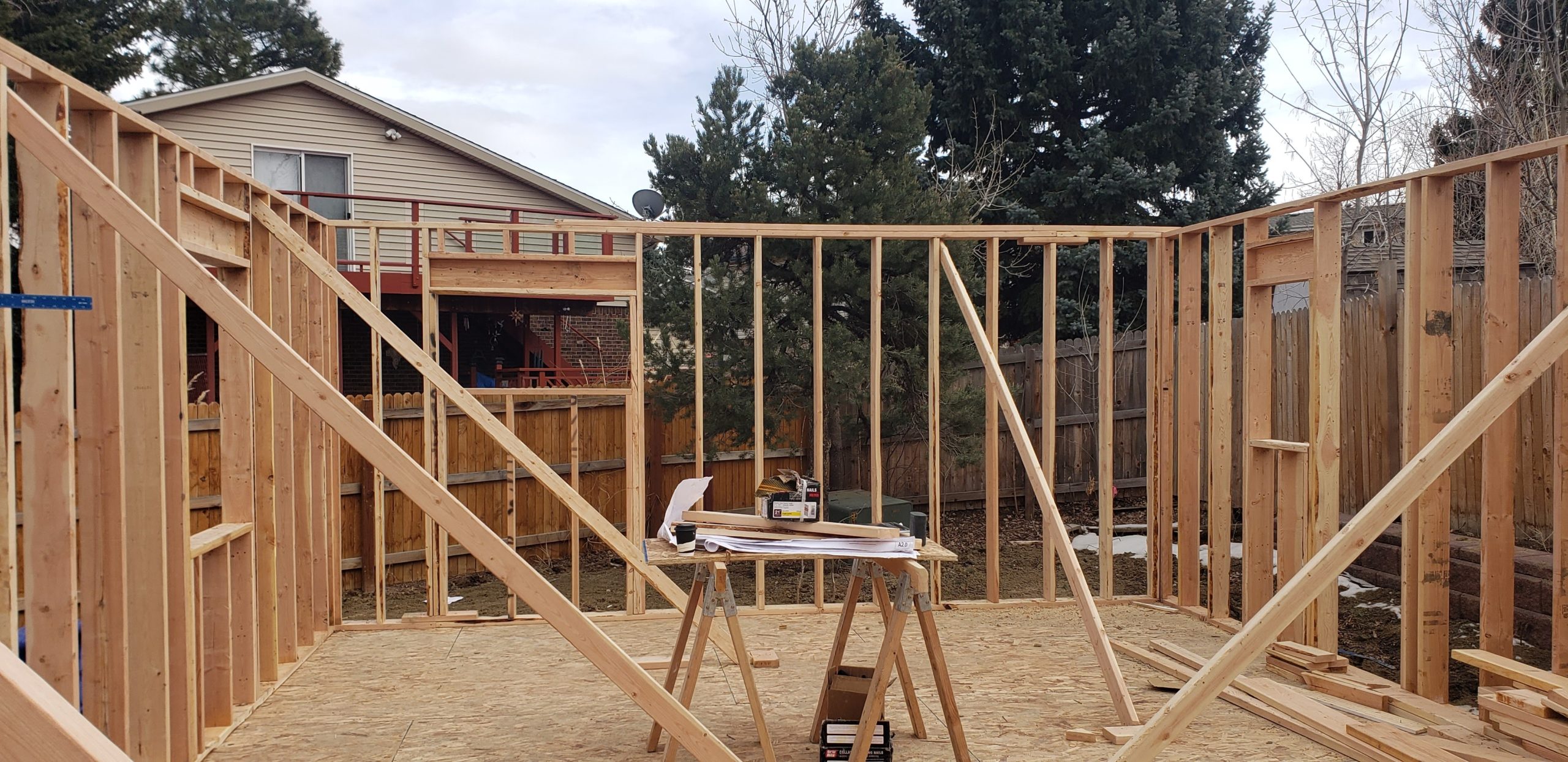 Some major residential projects include remodels that are more than 400 square feet in size, additions, ADUS, and more.  Homeowners can expect up to 280 days for permit approval.
Residential Construction Delays Hurting Homeowners and Contractors
There are many residential projects that are being halted by the city's long wait times for approval. The Denverite article details how a Harvey Park couple is having construction on their home to have a kitchen remodel and have already demolished the area. But the couple is still waiting on permits from the city and they have been told that it could take anywhere from 5 to 7 months before their contractor can even begin construction. 
On another front, developers are having a hard time delivering much-needed housing to the Denver area. Some developers have single-family homes that have been stuck in limbo with the city's planning and permitting department for even as long as a year. These delays have even made multi-family development in Denver a near-insurmountable task. Those that have been interviewed even claimed, "I will absolutely never do another multi-family project in Denver… Permit wait times are not the only reason, but it's a big one." This is one of many sentiments which are ringing loudly from all over the city as the housing crisis continues. The city's delay in permitting is interfering with forwarding construction and development to provide more affordable housing. 
Labor Shortage in Denver's Community Planning and Development Department
In addition to a large ongoing volume of permitting requests, it seems one main reason for the long delays in review times comes from a labor shortage within Denver's community planning and development division. The city of Denver is having a hard time filling in roles that are needed to help balance the workload. Staffing for a new Affordable Housing Review Team and other positions has become a tiresome task when facing employee turnover and retirements. Some positions that are open remain unfilled, the city has a position for a city urban designer that has been open for over half a year.
Work with a Denver-based Design Build Contractor
With the current uptick in permit requests and the shortage in labor, the city of Denver's Community Planning and Permitting Department is unlikely to speed things up for quite some time. That leaves homeowners and Developers to fend for themselves until the situation is addressed. That won't stop the demand and deciding factor to how fast a project gets permitted relies on your contractor. 
There are many homeowners and developers working with General Contractors who are operating outside of the city. This brings in questions about how frequently they perform work in Denver and therefore are in the know about the current state of affairs. That is why when building in Denver or doing any land development projects, working with a contractor that only does work within Denver should be sought after. These Denver contractors will be the best option for applying experience and understanding nuances in the current Permit Approval process. This could help homeowners and developers alike to best navigate the current permitting landscape for the city of Denver.
Additionally, finding contractors or Design-Build firms that are proactive during the permitting process can help alleviate the flow of a project. Design-build firms will be able to manage and oversee all the designs and concepts from each construction discipline to help streamline the City's review requirements.
Connect With Us
Planning your next renovation, or maybe you are looking to do a complete remodel for your home? Whatever the task, it can't hurt to ask. Reach out to our team through this form.
We can schedule a free consultation and discuss everything you need to get your project moving in the right direction. Did we mention, it's absolutely free?