Finishing a basement, it's probably one of the best and most rewarding projects you can do for your home. But there are some things you need to know when planning your basement remodel.
Coming Clean (Clean your basement)
It might not be a surprise but before finishing a basement needs to be clean and empty. This means cleared-out, clean, and open. This might be the first hurdle for homeowners as unfinished basements tend to be converted into convenient storage. A good suggestion, rent out a storage container and offload all that clutter from your basement into it. Having a clean basement is necessary so when basement remodelers arrive at your home, they can take quick and accurate measurements. Also, a benefit of clearing up a basement is the ability to see an open space for visualizing what it will become. Like they say, "start with a clean slate!". 
Locate any lurking leaks
Finishing a basement requires a solid foundation to work with, this goes beyond concrete slabs and walls to It is best practice to keep an eye out on all utility lines in your unfinished basement. Since most unfinished basements lack finished walls, these lines should be fairly accessible to view. This is important because if your home has even one small leak, the issue could grow into a serious problem. There is no sense in completing a basement finish just for all that work to be undone by water damage. Many local companies can provide a quick inspection for excess moisture, mold, and hazardous materials (Asbestos and Radon). Take the time to look into having those looked for and possibly remediated before beginning construction.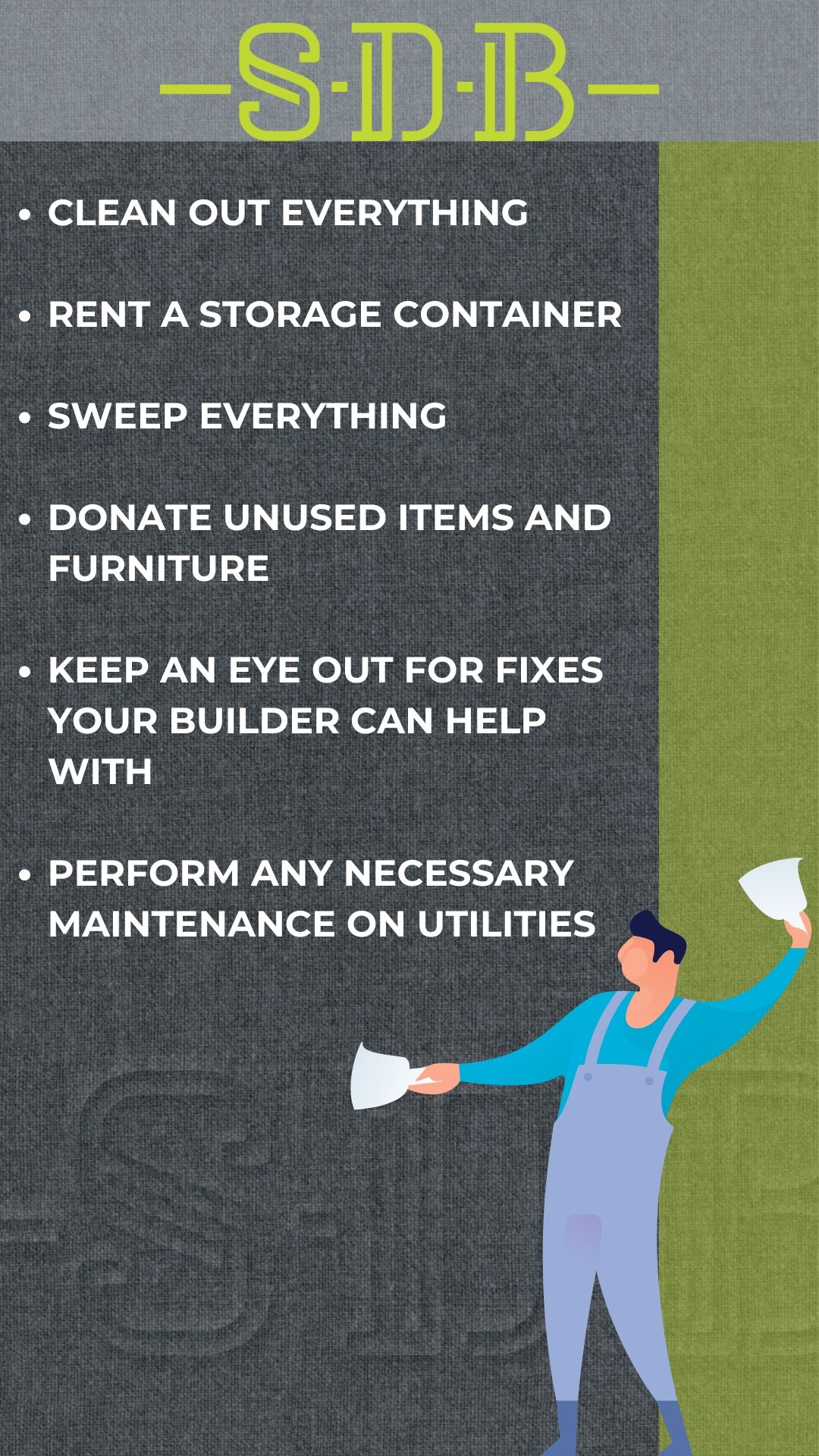 Understanding code words
The ceiling is the limit…
Every city and county is different when it comes to certain building requirements. Zoning codes will dictate what you can and cannot build. Some properties do not have the correct ceiling height for a finished basement. The accepted height for a ceiling is 7 feet, but if parts of your basement do not reach this requirement there are ways to address the issue. If this is the case there could be an extra cost or no options available to complete a basement project.
Egress What?
Egress is another word for "exit" and modern construction requires an exit for emergencies. It is easy to overlook but most municipalities require an egress window in basements with an acceptable amount of clearance. Often, older homes will not have an egress window installed due to being constructed before they were required. Be sure to look into your neighborhood development services for the requirements needed for your proposed basement.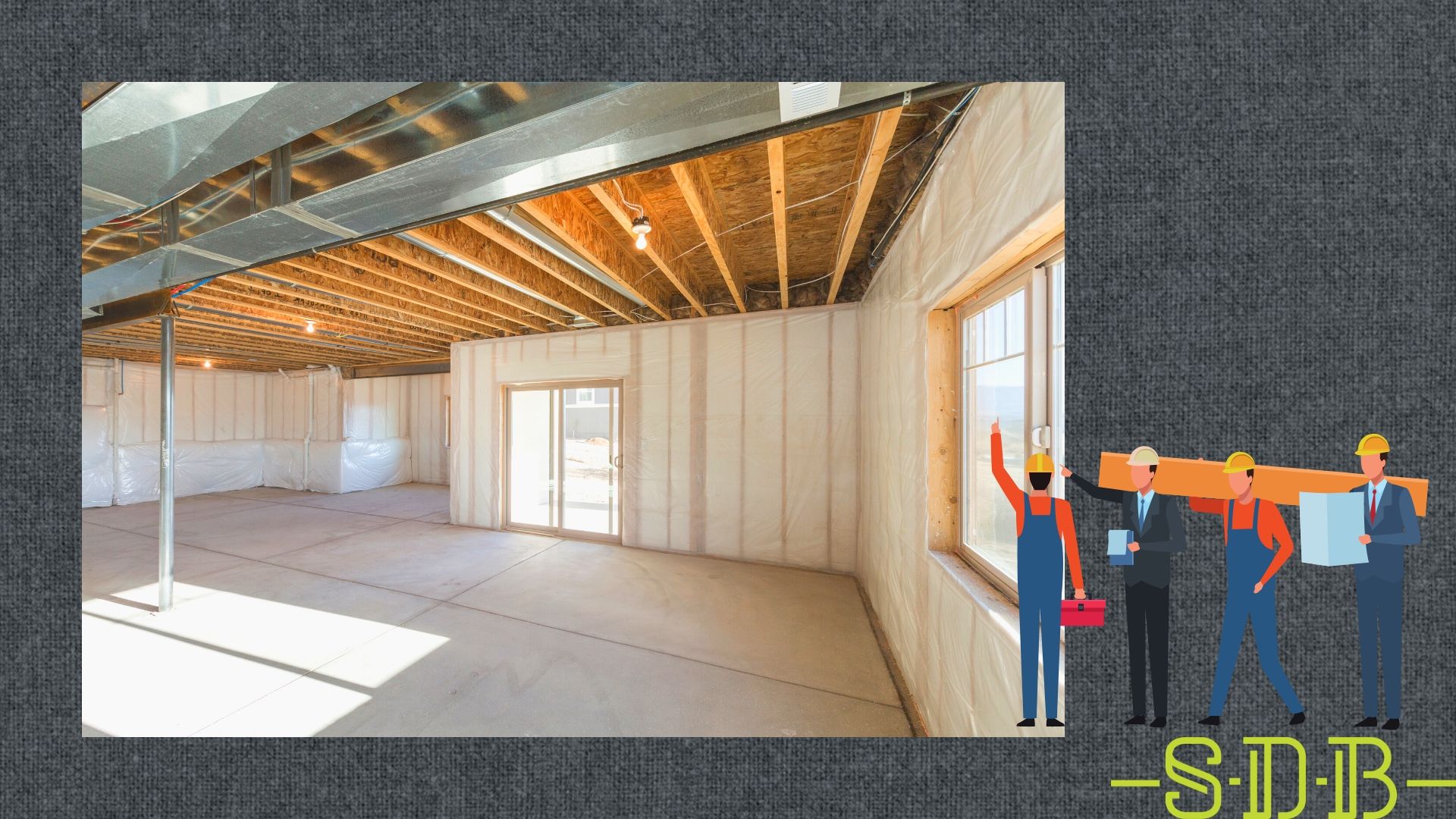 Visualize the future
Basements offer an immense amount of flexibility and utility. Make sure to take the time to stand back and visualize what the basement should be for, what is its purpose? What do you need in your home? What do you want in your home? Finishing a basement remodel unlocks an entirely new floor for you to use which could be for guest suites, kids playroom, family, den, multimedia room, and more. This is also important to communicate with a basement remodeling company during the initial walkthrough and estimation process. They will need to know what the functions of the room are so they can properly measure an accurate layout and estimate.
Funding a Basement fINISH
Most basement remodels cost anywhere from $10,000 – $30,000 on average for a simple single room finish. However, when owners start looking to build out one or more rooms, add plumbing and electrical fixtures, or even wet bars – that price starts to climb. On average, Sustainable Design Build has seen clients ask for remodels that are around $40,000 – $50,000 in total for labor and materials. That is a sizeable amount to have to pay out of pocket but there are options available to make any project more affordable. Financing options such as HELOCs, Refinancing, and simple construction loans can be great sources. All these tools are available and are usually dependent on the type of property and homeowner budget. Take a look at some of the articles we at Sustainable Design Build have written to give a simple overview. Even more, SDB works with Hearth Financing which offers great and easy loans that can be structured to a client's needs, check our link for more information.
Contact your builder
We have mentioned before that there are differences between subcontractors and design-build companies. We highly recommend hiring a design-build contractor who will take the wheel for your project. With so many trades being performed for your basement, a company like Sustainable Design Build offers a lot of value and ease of use. Design-build companies will act as your single source of contact and will manage everything for the project all the way to completion. Not only that, but you will have an extra layer of protection working with design-build companies who will be responsible for the trades, budgeting, and scheduling. This way you will have no worries about rogue contractors.
 Connect With Us
Planning your next renovation, or maybe you are looking to do a complete remodel for your home? Whatever the task, it can't hurt to ask. Reach out to our team through this form.
We can schedule a free consultation and discuss everything you need to get your project moving in the right direction. Did we mention, it's absolutely free?
Schedule a free consultation