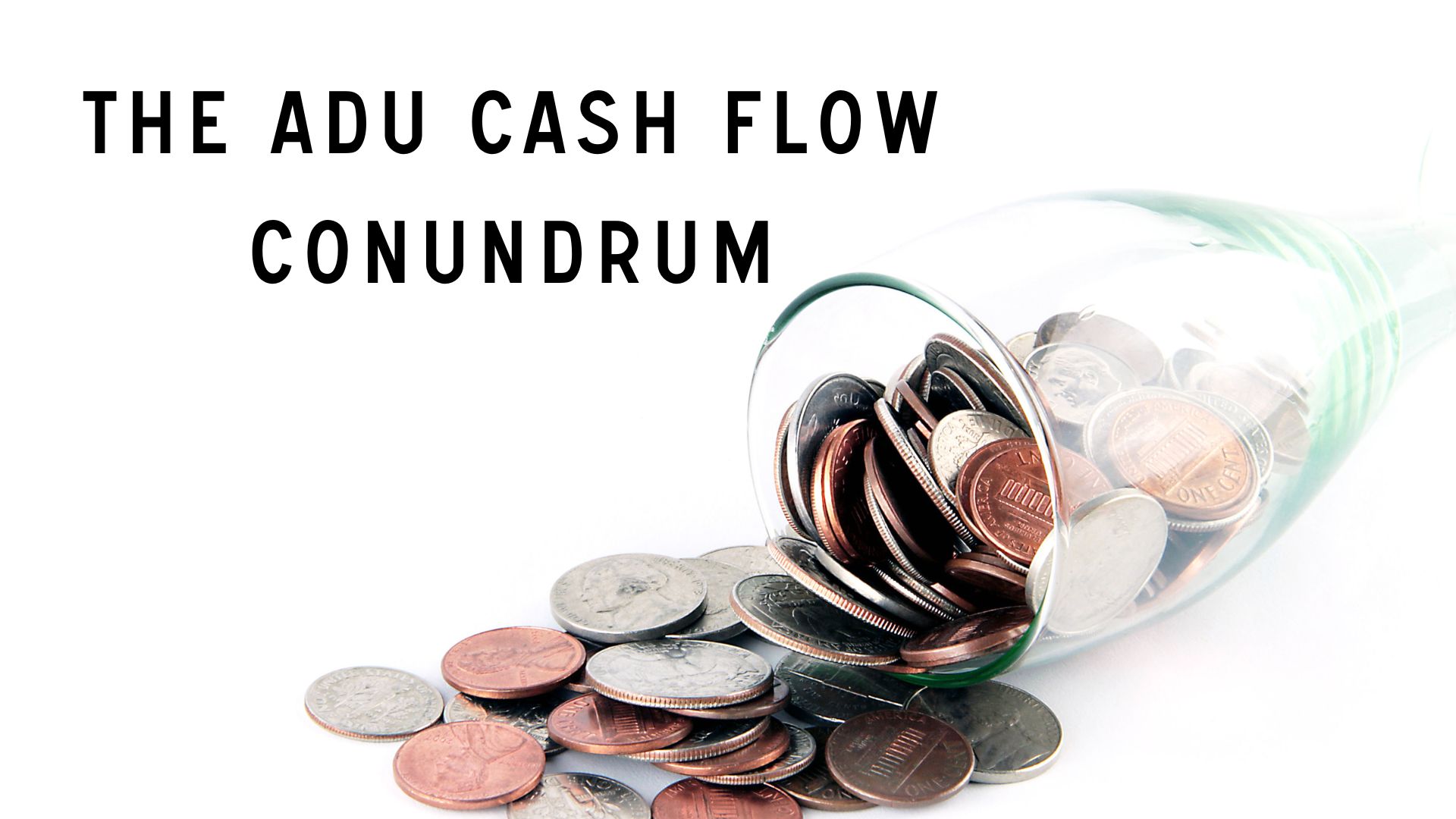 For the last couple of years or so, building an ADU in Denver has been a hot trend for homeowners, real estate investors, and would-be rental owners. An ADU or more formally known as an Accessory Dwelling Unit is a great idea to expand the livable square footage of a property. Property owners of all kinds have envisioned their homes to have a detached suite right in their backyard. The apparent benefits look promising, having a detached unit that can be rented out for long or short periods, having a detached property that can house family members or guests, and the increased square footage adds to the property value. 
At a glance, building an ADU seems like a worthy investment for future rental owners but more times than not, it's not the best investment. The reason for this is due to the ADU Cash Flow Conundrum property owners are faced with. Building an ADU requires a lot more time and money than other projects which makes them unappealing to those looking to cash flow as a rental.
What does it mean to cash flow on a rental property?
To cash flow on an ADU rental property, the rental property in question needs to generate enough income to cover the costs of the construction of the ADU and its related expenses for housing a tenant. When looking at a real estate investment property, the main components to be aware of when forecasting its viability are income and expenses. 
Cash flow is the amount of profit a rental property owner earns each month after collecting rent and paying off all operating expenses. Buy-and-hold real estate investors observe a property's cash flow as the main mechanism for their financial goals. In a sense, building an ADU and then converting it into a rental property is a localized version of buy-and-hold real estate investing. But due to construction costs and timelines, the positive cash flow needed to make an ADU rental property viable might be too much for some homeowners.
Cash flow = gross rental income – all expenses and cash reserves
Building an ADU Timeline
If one can reduce the construction of an ADU into two phases it would contain:
Design Phase

Construction Phase
During the design phase, property owners will go through the very extensive process of obtaining a building permit from the city and county of Denver (or governing municipality). This is an overarching goal that has the property owners and design-build firm working together to design the best set of plans. By consulting with architects, structural engineers, civil engineers, geotechnical engineers, and all the contracting trades needed to build – a set of plans can be devised. 
Delays in permitting continue
The city's planning and review department however has been seeing historic rises in demand for their services and building permits. Compacted with the fallout of the pandemic, the city reviewers offer extremely long wait times for permits. In fact, at the start of 2022, Denver building permit approval broke over 200 days for major residential projects (that includes building an ADU). That number even breached 300 days briefly during the Summer but has since receded back to about the mid-200s. Still, even with the efforts, the city of Denver has employed, property owners should be aware of how significant the permitting delays affect their ADU rental property goals.
Construction Timeline
Building an ADU here in Denver or Colorado requires more than in neighboring states. All livable spaces need special considerations to combat the cold weather conditions and the unique soil properties. This makes ADU construction more complex than a would-be shed in the backyard. Property owners looking to build an ADU should be prepared for a construction timeline that is similar to a custom home construction project. Any general contractors or ADU companies suggesting otherwise are not to be trusted. 
All in all, a property owner looking to build an ADU can expect the project to take about two years to complete from design to construction. This is assuming optimal market conditions and no supply chain issues.
Do two years fit into your real estate investment strategy?
These conditions create somewhat of an ADU Cash Flow Conundrum. The ADU incurs costs immediately to begin design and build. Throughout this entire process, the rental property will not be cash-flowing and it will be some time before it will begin to turn a profit. Some real estate investors and homeowners are not looking to incur costs for two years or more. Instead, finding a rental property that is already established can be bought and cash flow immediately is an easier move. 
Step into a rental property that has already been built
For those looking to build out their rental portfolio and cash flow immediately, an ADU might not be the answer. Purchasing a property and turning it into a rental is much more efficient and cost-effective. Even when a property owner has to remodel, Sustainable Design Build has found the eager real estate mogul to be content with remodeling or renovations instead of brand-new construction.
ADUs keep the guests close
ADUs are perfect for property owner that is projecting to stay at their home for a long time. Perhaps the ADU is a way to bring families closer together without renting out the den and sacrificing privacy. If a homeowner is not looking to cash flow a rental property immediately and strictly utilizes it for personal reasons, an ADU can be a great project.
The Bottom Line
An ADU is a great project but is also a major undertaking for residential space. Families that are looking for more room to house relatives or close friends might find this project ideal. But those who are seeking to generate passive income streams and build equity might want to consider other options. It's not to say an ADU cannot generate rental income and improve one's home; it takes far more time than other options out there. For near-immediate rental cash flow, real estate investors can find existing units on the market or properties that need only a little bit of TLC. For more information about how to build an ADU for your home or what the overall process can look like, contact Sustainable Design Build as your premier Denver Design Build Contractor.
Connect With Us
Planning your next renovation, or maybe you are looking to do a complete remodel for your home? Whatever the task, it can't hurt to ask. Reach out to our team through this form.
We can schedule a free consultation and discuss everything you need to get your project moving in the right direction. Did we mention, it's absolutely free?