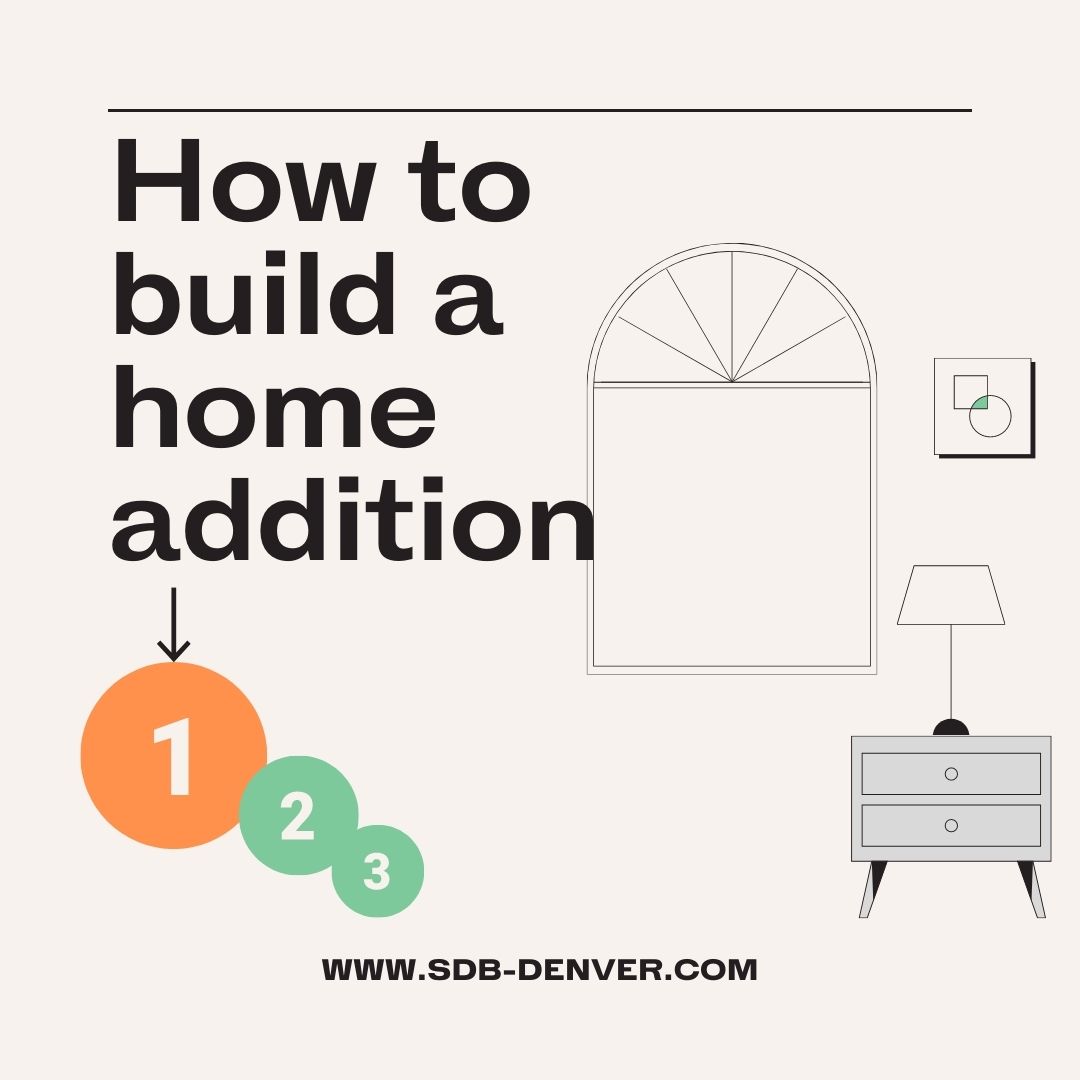 Home additions are widely regarded as the most complex and expensive home improvement project there is. Because not only is one performing a new residential construction project but they are also conjoining or building off of an existing structure. A litany of factors can be involved when building on top of an existing structure. Building a full room addition will typically require changes to the home's existing floorplan, installing additional foundations, new framing, and finishing to create a new living space. If that isn't complicated enough, starting a home addition can be daunting as homeowners who begin the process won't even have a finalized budget yet. Until plans are approved, homeowners typically won't know the exact scope of work to be performed. This can mean months of architectural, structural, and design work. Despite the daunting scope of this type of home improvement project. Home additions are extremely valued due to the inherent value of increasing livable square footage to one's home is.
01. Determine the budget and scope of the home addition
As mentioned above, building an addition requires a considerable amount of research and planning. The precision of those efforts and calculations will ultimately determine the project's scope. There is no set budget for any project, and home addition costs can differ depending on pre-existing site conditions, engineering requirements, and finishes. The Spruce reports, while some homeowners report paying $50,000 to $75,000 for a full-scale, multi-room house addition, a more realistic number is probably in the low six figures. But a major bump-out to create a spacious new kitchen can push the cost into the $250,000 range. Ultimately, a home addition cost will be determined by the finish selections and design choices made by the homeowner.
02. Work with an Architect and Structural Engineer
Having a general contractor alone may not be enough to perform a home addition project. A general contractor will only be able to oversee and manage various trades being performed per plans.  And an architect and engineer are needed in order to draft up those plans. More importantly, architects and structural engineers will ensure that the space you are creating is maximized to its fullest potential while being the safest. Oftentimes, general contractors will have preferred companies they work with. Design-build companies will have an in-house architect to work with or a company that has partnered exclusively with them. With design-build firms, homeowners will find the benefit of managing the drafting phases of these plans which will help with the submittals for permits later on down the road and even cost savings in certain trades. So depending on how soon or how long one wants to do a home addition, choosing a general contractor or design-build company will determine the flow of the project.
03. Get Permits 
Permitting requires a great amount of information and requirements from your local municipality. General Contractors and Design-Build companies will make sure to handle all the necessary paperwork and tasks. But it is important to remember that a lot of different factors and departments are involved in order to sign-off collectively for approving your project to begin construction. Demolition permits will require to sign off from your; water company, electrical company, sewer and waste, city approval, and event notification to your neighbors. All that is just for demolition. The remaining permits will be pulled by your General Contractor or Design-build.
04. Build The Addition's Foundation
For most additions, a day or two of light demolition work is required. After completing the permitting process, your project will begin to demolish a few areas to make way for the new structure.
Most room additions get a full-scale foundation, just like a new house. Depending on the plans, the crew will begin pouring a concrete slab or excavating for a crawlspace or basement, followed by pouring concrete footers and foundation walls.
Foundation work is generally done by a specialist contractor hired by the general contractor—often the same crew who performs the early preparation of the site. It can take several days or the digging, pouring, and curing of the foundation before it's ready for the framing crew to begin work.
05. Framing A Home Addition
As soon as the foundation concrete is cured, the floors, walls, and roof are framed. This can happen with surprising speed when a large, experienced crew does the work. One day, you come home from work and find that the entire skeleton of framing members has appeared.
Some projects are "stick-built," with the framing crew building the floor platforms, the stud walls, and the roof rafters piece by piece before sheathing them. In other cases, certain elements are built off-site, then trucked in to erect in large pieces. It is now common, for example, for roof trusses to be built off-site, then hoisted into place by a crane. In other cases, though, even the framed walls are manufactured off-site, which can make the structural framing go quite fast.
The structural framing is often done by a crew of carpenters that work permanently on-staff for the general contractor, but it's also common for carpenters to be independent workers hired on an as-needed basis.
Framing happens quite quickly, often within a day or two, since there is an urgent need to get the structure sheathed to shelter it from the weather.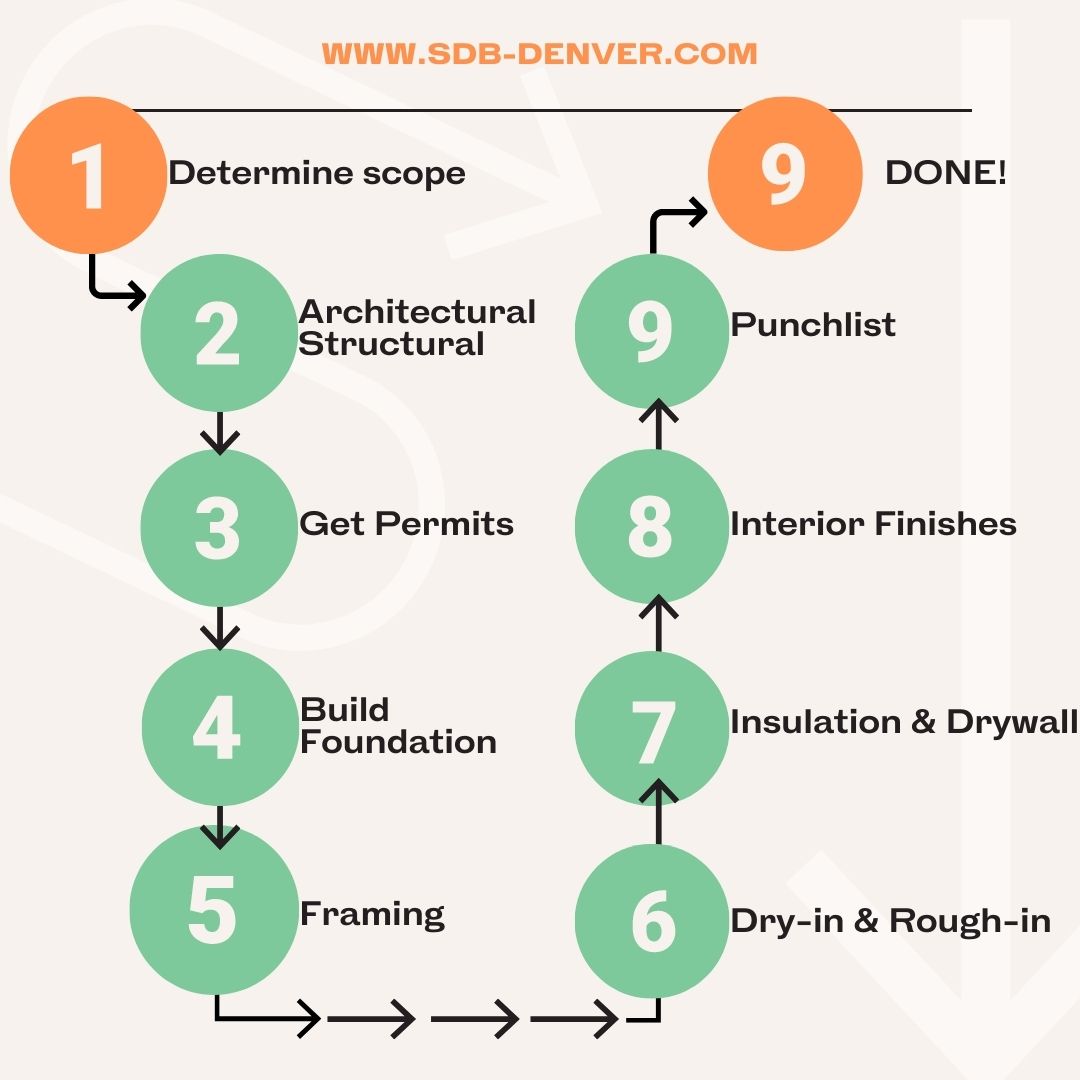 06. Dry-in and Rough-in
After the structure of the addition has been built the roof, windows, and doors need to be installed. With the combined installation of weatherproofing materials like Tyvek, the addition should be dry and able to withstand weather conditions. This hints at the "Dry-in" phase of the project. 
Afterward, major trades will perform their rough-in installations. Trades such as electrical, plumbing, and HVAC will run through the new addition adding elements that are usually hiding behind the walls of your home. So piping, vents, and ducts, wiring and etc. will be installed while the framing, walls, ceiling, and floors are still in their rough form.
07. Insulation and Drywall
Following the rough-in of the addition, insulation will be placed along with the framing elements. Whether it will be standard fiberglass batts or sprayed foamed insulation, the addition will be built to code by energy regulations determined by your municipality. 
Afterward, all the raw elements of rough-in and insulation will be covered by a panel of drywall. The drywall will be screwed into the framing, inspected, and then "mudded". Upon completion of this, a project will have effectively reached the mid-way point of completion.
08. Interior Finishes
Installing the interior finishes is where the vision of an addition really comes together. Everything from flooring, tile, cabinetry, trim, paint, and fixtures will be installed. This is also where interior doors and other transitional elements will be installed. This may be the most exciting part for homeowners as their finish selections will come to light and create the true personality of the addition project.
09. Punchlist
Once the interior finishes are completed, a final round of inspection will be conducted. But the homeowners will also have the opportunity to inspect the final product. Some items may need cleaning up or might have been overlooked, and so homeowners will create a punchlist of these items in order to make sure everything is completed. These are typically small items or trade details that got pushed to keep timelines appropriate for others.
Once a skilled carpenter runs through the list, the home addition project will be completed!
Design-Build Firms Are The Perfect Home Addition Contractors
While it's easy to assume a general contractor would be the ideal choice to begin your research into building a home addition. General contractors might not have the services or connections that are necessary to bring the project which includes the planning, drafting, and building permits. Even more, without these items, homeowners will most likely find it difficult to get accurate estimates for the projects. General Contractors will collect bids for various trades like foundation, framing, and finishes; but these are based on the plans. A General Contractor will most likely have no say in the drafting of the plans for your home addition. Which translates to little control to will be bidded on for estimates. The plans will be a major contributor to determining the overall cost to build an addition. 
When searching for a contractor, you may see the term design-build contractor used. Design-build contractors have been around for many years and are commonplace. A design-build contractor is, in basic terms, the same as a building contractor, but one who forgoes the use of an architectural company. The design-build contractor doesn't necessarily employ an architect but instead may rely on an in-house designer to create the plans. Working with a Design-Build firm, homeowners will be able to save cost to build an addition through value engineering. Design-build firms will do that as well as collect bids for trades, manage trades-people, and see your home addition project to the finish.
Connect With Us
Planning your next renovation, or maybe you are looking to do a complete remodel for your home? Whatever the task, it can't hurt to ask. Reach out to our team through this form.
We can schedule a free consultation and discuss everything you need to get your project moving in the right direction. Did we mention, it's absolutely free?
Schedule a free consultation