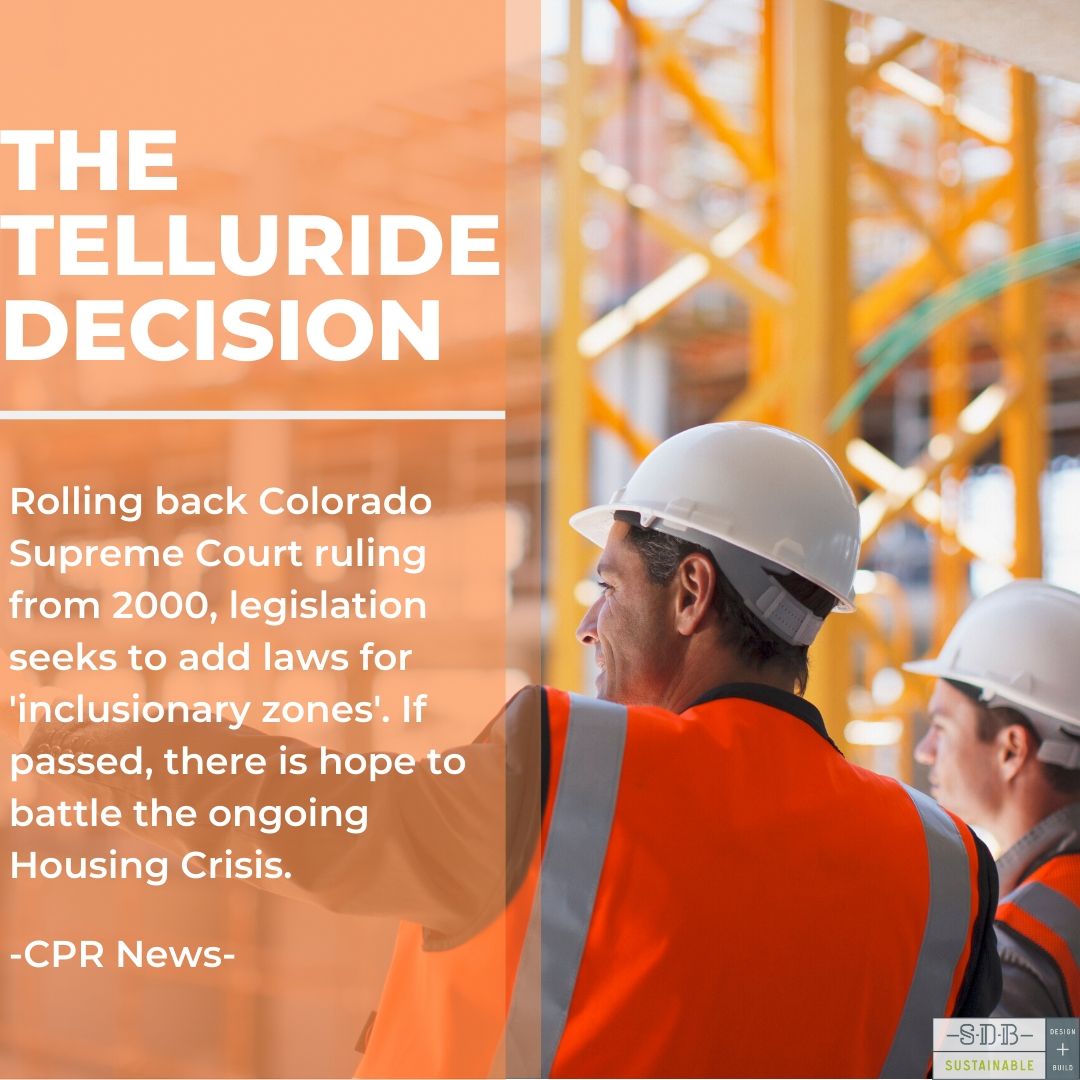 Andrew Kenney reporting for CPR news covers an article about 20 year old Colorado law which is being set to be lifted. This law, the "Telluride Decision",protects developers from being forced into offering a portion of their new buildings to include a subset of lower-cost housing units. Legislature has found this limitation to be a form of rent control which is illegal under state law. The move aims to be a huge step in the battle against the Colorado Housing Crisis which still persists even to this day.
While being a large priority for all municipalities across the state, rolling back the previous law has proven to be difficult. "The Telluride decision, 'has really limited the tolls that cities and countries have to be able to ensure inclusionary housing in their communities," said State Sen. Julie Gonzalez." (Kenney, 2020). According to last year, there was an attempt to pass a more ambitious bill allowing cities to enact more traditional rent control policies but did not gain any traction. Unless Builders get financial help from the government, he argued, building owners will make up the cost of affordable housing units b charging higher rent elsewhere (Kenney, 2020).
While the new bill is looking promising, enacting it might be difficult. As seen, some cities already have "Telluride" workarounds. But most of those options for Builders often prioritize as paying cash or other actions rather than build additional units for lower income housing. There may need to be more focus on creating the correct amount of incentives for builders so additional housing will be constructed instead of a latter write-off. 
Kenney, A. Feb 3, 2020. After 20 Years, Colorado May Reverse Decision That Limits Cities' Affordable Housing Powers. NPR. Retrieved from https://www.cpr.org/2020/02/03/after-20-years-colorado-may-reverse-decision-that-limits-cities-affordable-housing-powers/?mc_cid=a822d1b78f&mc_eid=63d05b5845