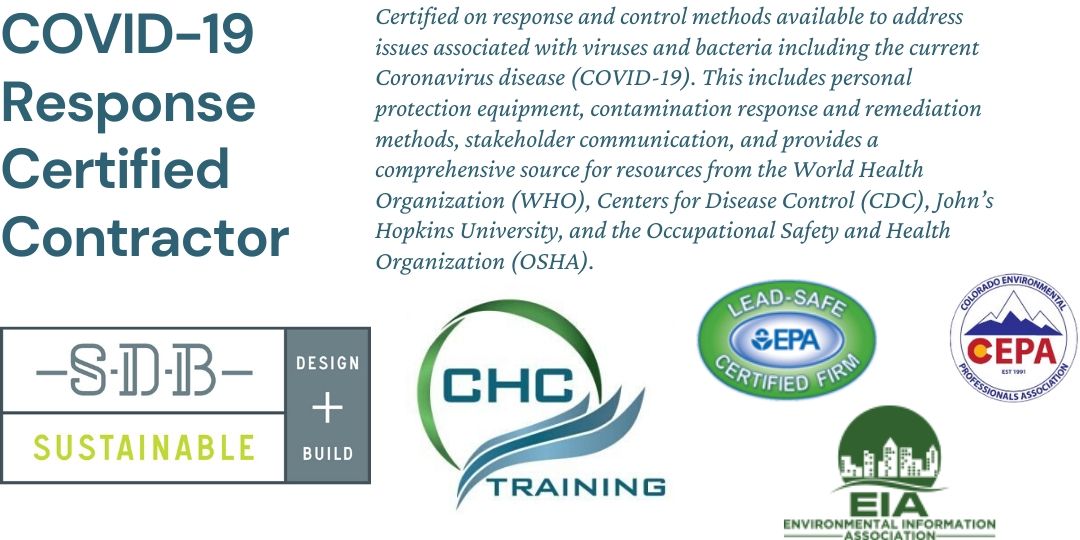 Denver General Contracting with Safety as a Priority
In response to the recent pandemic Sustain able Design Build (SDB) has updated their operations to make their clients and workers safety their highest priority. Sustainable Design Build is taking the necessary steps in accordance with Denver and Colorado's state orders along with government agencies such as OSHA by:
Minimized Work Staff by 50%

Moving operations of the business to run remotely

Workers are practicing social distancing and staying 6ft or more away

Cleaning and disinfecting our work environment

Workers are wearing personal protective equipment (ppe) including face masks

Offering virtual services for estimates and bid proposals
Pandemic Response Certification
Sustainable Design Build has always taken pride in safely delivering all home remodeling services to its clients and community. Continually learning and gaining specialization in our field of expertise is a core fundamental belief of all owners and employees of SDB. So, when CHC Training offered their Epidemic / Pandemic Response Contractor Certification, SDB jumped at the opportunity to elevate its practices in safety during this pandemic and beyond. On April 15th, 2020, Sustainable Design Build's General Contractor and Project Management staff completed the training and certification course with CHC. SDB's clients can confidently be assured that it will conduct business to the highest quality and expectations so they can achieve their goals unhindered during this pandemic.
CHC Training in Colorado
CHC Training (CHC) is a Colorado business that provides occupational and environmental training solutions to a wide scale of industries. With accreditation from the EPA, CEPA and EIA; CHC Training is a trusted resource for all businesses seeking certifications.  
CHC's Epidemic / Pandemic Response Contractor certification gives training to business personnel on basic response and control methods available to address viruses and bacteria – this also includes the aforementioned Coronavirus disease (COVID-19). There is training including personal protection equipment, contamination response, and remediation methods. All information provided is sourced from the World Health Organization (WHO), Centers for Disease Control (CDC), Johns Hopkins University, and the Occupational Safety and Health Organization (OSHA). 
(2020). Epidemic / Pandemic Response Contractor ONLINE. CHC Training. Retreived from https://chctraining.com/product/epidemic-pandemic-response-contractor-online/