The West Colfax Neighborhood is the hottest up and coming neighborhood in Denver. Y
ou'll find this fast-growing area just South of Sloan's Lake and right on RTD W Light Rail Line. Hop on the light rail and be at Union Station in 12 minutes or stay in the hood and enjoy all of the new restaurants, breweries, theaters and shops.
Grab a burger from Sloan's Lake Tap & Burger, a craft beer from Seedstock, a movie at Alamo Drafthouse or a coffee at Starbucks; West Colfax has it all!  With the added convenience with being just minutes of a short commute from Denver, the West Colfax Neighborhood is the epitome of modern Denver living.
Purchasing a home in the aggressively growing West Colfax neighborhood of Denver is a great investment for homeowners and investors alike.
Can I pick out finishes for my new home?
Yes, in some cases new buyers may select finishes for their new purchase depending on the status and progress of the new construction.
Will there be an HOA?
Currently, there is no Homeowners Association (HOA) for any of Sustainable Design Build's Denver projects. There will be, however, a management company that will assist organizing payments towards party wall agreements.
What warranties come with a new home?
A standard offered to all Sustainable Design Build projects, each home will have one-year workmanship and a two-year systems warranty for new homeowners. Sustainable Design Build will facilitate all warranty matters under this policy.
Is Sustainable Design Build licensed, bonded and insured?
Yes.
Frequently Asked Questions
Here are some common questions we receive often from interested parties. If you need any more information please do not hesitate to contact us! Sustainable Design Build will personally answer any inquiries in a timely manner.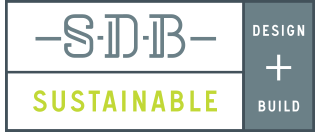 Questions about a property? We have a dedicated realtor to answer all your questions and assist you every step of the way. Fill out this form and a member of our team will reach out to you. Thank you for your interest!
Already have a realtor? Your realtor is welcome to contact us directly to arrange showings and have any questions answered. We are happy to work with you directly or any realtor on your behalf.